As part of John Clements' Industry Briefing Series, Joey Radovan, vice chairman and head of Occupier Services & Commercial Agency of Santos Knight Frank, was invited to speak about the real estate industry. Titled Coffeesation (coffee+conversation), the main objective of the session was to have a discussion about what's up and coming in the property/real estate sector over cups of coffee.
While everyone enjoyed their coffee, Joey mentioned that cities outside of Metro Manila are developing, thanks to the infrastructure projects initiated by DPWH. One of the main drivers for growth in the property/real estate sector is the increase in the number of the POGOs in the last 5 years. The reason behind this is that they rent spaces — office and residential — without negotiating the price. Unfortunately, POGOs don't generate jobs for Filipinos and it's difficult to actually quantify how much they are earning or how well our country is benefiting from them. Currently, the POGOs are also looking at spaces in provinces and cities outside of Metro Manila. Landlords are now trying to limit POGO leases between 10% to 15% of their total portfolio.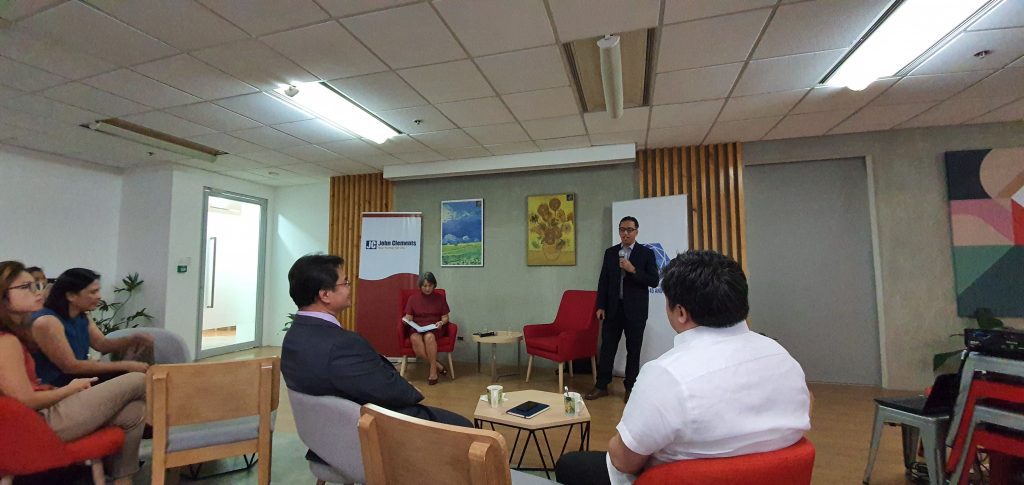 For the market snapshot, office vacancy remains within 5% in Metro Manila, while rents continue to increase as demand continues to constantly peak at Php 1,900 per square meter (monthly). The projected take-up for 2020 is estimated between 800,000 to 1,000,000 square meters. As for supply, around 700,000 square meters of leasable space was delivered in the metro for 2019. Even with much supply coming in, some areas still experience a strong demand with no signs of rent softening up — though not foreseen to continue in the long run. A large portion of the upcoming office supply have already pre-committed, signifying that the market is ready to take the additional spaces to be made available in the near future.
Joey also highlighted how the real estate industry is doing in each CBD (as well as in upcoming CBDs) starting with Makati. He shared that Makati remains to be the top or prime real estate location, with an average monthly lease price of Php 1,487.08 per square meter. This is because a lot of big companies are still situated in Makati and the clientele in Makati is more diverse when compared to other CBDs.
Next would be BGC and areas in Taguig, which are now considered new prime real estate locations, with an average monthly lease price of Php 1,239.71 per square meter. This is because offices situated in BGC are predominantly from the IT-BPO industry. Considering infrastructure plans in the near future, we can expect a price increase as the uptown area will have better access points versus other areas in BGC. Connectivity will play a very important role in the change or impact in real estate.
Other CBDs he cited were Alabang, including Muntinlupa (where Northgate Cyberzone is located) and Las Piñas, with an average monthly lease price of Php 786.76 per square meter; Ortigas, including Mandaluyong and Pasig, with an average monthly lease price of Php 776.32 per square meter; Bay Area (where many BPOs and entertainment establishments are located), with an average monthly lease price of Php 976.63 per square meter; and Quezon City (which boasts of several IT parks), with an average monthly lease price of Php 932.91 per square meter.
Finally, Joey mentioned that one city to watch out for is Clark — it's not far from Manila, there's a lot of space available, and the Clark International Airport makes it even more accessible. Joey shared that Udenna Corporation's Dennis Uy currently leads the development of Clark as the next CBD.
Source: Medium.com