Coming into the new year, there is still a demand in the high-end real estate market for secondary homes in areas surrounded by plenty of greenery such as beachfront homes. Getting a beach property can mean having a "safe haven" all to oneself outside the hustle and bustle of urban life. A private vacation spot perfect for a quick getaway, for relaxation. Also, to safely stay a distance away from the crowds especially at the time of the pandemic. 
Despite uncertain times, domestic travel is seen as one of the ways to drive economic recovery for the country. It is a lucrative option for those looking for a way to get income through a business or via an investment. If budget is not an option, then having a prime vacation spot in one's property portfolio is a good investment. Here are four beautiful beachfront vacation homes to check out this 2022: 
Seaside Villa, Siargao Island, Surigao del Norte | For Sale
Most commonly known as the surfing capital of the Philippines and being dubbed as the "best island in the world" by Conde Nast Traveler readers, this Siargao property is the perfect island getaway. This gorgeous highly-rated resort has beachfront access as well as key amenities available such as a swimming pool, outdoor bar, and a common lounge area. 
Siargao is a key local and international tourist destination with a tourist arrival growth rate of 47.41% in 2019. Aside from the gorgeous view and the famous surfing spots, there are plenty for tourists to do in the island from surfing at the famous Cloud 9 surf spot, to swimming in lagoons, to exploring the Sohoton Cave National Park, or simply by walking around experiencing the local sites and sounds. 
Key details: 
Lot Area: 1,284  sq.m.

Beachfront access

(1) Two-storey 120 sq.m seaside villa

(5) 40 sq.m glamping tent rooms with private bathrooms 

3 minutes from Cloud 9 and 9 minutes from General Luna

Selling price: PHP 55M
Beachfront Residential Property, Romblon | For Sale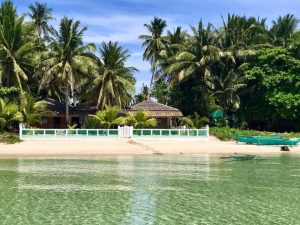 Located in the heart of the Philippine archipelago in Romblon, this location is a great spot for both beach enthusiasts and those looking for the perfect diving destination. 
This beachfront property contains four (4) furnished houses that are connected by a 130 sq.m. patio, each containing one bedroom, one bathroom, one kitchen and living area, and one veranda. This is the perfect safe haven for its close proximity to the beach and those looking for a long-term vacation destination. 
Key details: 
Lot Area: 600 sq.m.

4 houses

Floor Area: 50 sq.m. (per house)

Bedrooms: 1 (per house)

Toilet & Bath: 1 (per house)

Condition: Fully-furnished

Selling price: PHP 23M
Beach Resort, San Juan, Siquijor | For Sale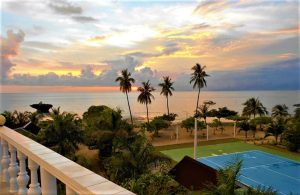 The quaint island of Siquijor is located just below Cebu in the Bohol Sea. Thanks to current infrastructure developments, it is just one plane ride away from the international airport. In the area, about P3.5B has been invested on roads and infrastructure from sea ports to roads that can help elevate Siquijor as a top tier tourist destination in the country. 
This beachfront resort is the second biggest in Siquijor with 34 guest rooms available—perfect for a wide variety of travelers. There are also plenty of amenities to enjoy from the outdoor lap pool, to a U.S. standard sized tennis court, as well as an unparalleled view to the longest beach shore in the island. 
Key details: 
Lot Area: 14,479  sq.m.

190 meters from the beach

34 rooms with en-suite baths

200-250 person capacity in restaurant

Features: restaurant, pool, outdoor bars, swimming pool with 6-sitter bar, U.S. standard size tennis hard court

Selling price: PHP 300M
Xavier Estates, Cagayan De Oro, Misamis Oriental | For Sale
For those wanting a taste of luxury even in the province, this beautiful Cagayan de Oro home serves as the perfect luxury home with a guest house. Cagayan de Oro has become the hub of tourism in the center of Mindanao for both relaxing and thrill-seeking adventures from visiting botanical gardens to going kayaking. 
This luxury home is located in Xavier Estates, a fully-gated subdivision in Cagayan de Oro which is also the best master-planned residential community in Northern Mindanao. Inside its subdivision gates, residents can find a clubhouse that has restaurants, a bowling alley, pool tables, basketball courts, tennis courts, darts area, and a fitness gym. 
Key details: 
Lot Area: 600  sq.m.

Type: Two-storey main house and two-storey guest house 

Main House

Bedrooms: 4

Toilet & Bath: 4

Features: Pantry and dirty kitchen

Guest House 

Bedrooms: 4

Toilet & Bath: 2

Features: Exterior stairs with stainless steel railing

Parking: 3 

Condition: Fully-furnished 

Features: Designer accent tile, jacuzzi, intercom phone system, wheelchair access, extensively landscaped, chandeliers, luxury classic drapery design curtains, sauna, Swimming pool, ornamental iron works, granite countertops

Selling price: PHP 65M
Looking for vacation homes for sale? 
Discover the perfect property or land for sale with help from a renowned real estate agency, Santos Knight Frank. When it comes to finding the right property, Santos Knight Frank is the partner in property with its wide range of real estate services from brokerage, consultancy, advisory, appraisal, property management, and more. Learn more by visiting the official website of Santos Knight Frank at https://santosknightfrank.com/.