Residential, Investment
When it comes to residential spots in the South, we often only think of big villages such as Ayala Alabang or BF Homes. However, what most people don't know is that there are many other villages and subdivisions in the area that can potentially become your next home. 
The reality is, the south of Metro Manila is actually home to many villages, subdivisions and communities that are perfect for all types of families. There are a lot more villages in the south that offer safety and security within a village community, plus large living spaces at a more affordable price tag! In this blog, discover five highly-underrated subdivisions all the way down South of Metro Manila – which most of you have probably never heard of before. 
AFPOVAI Village, Taguig City.
AFPOVAI, which stands for Armed Forces of the Philippines Officer's Village Association Inc. is a subdivision in Taguig, which offers luxurious and modern homes in a variety of different sizes. It is located within a safe community that is literally just a few minutes away from the hundreds of retail, dining, and business establishments within Bonifacio Global City (BGC). 
It is a prominent community where most of the top ranking Philippine military personnel's families reside and is also in close proximity to the Ninoy Aquino International Airports and is accessible via key roads such as C5, Bayani Road, and East Service Road. 
What sets AFPOVAI apart from other subdivisions is that the homes within this village are affordable – costing about as much as if you purchased a two or three-bedroom condominium unit within BGC. Residing in AFPOVAI allows families to have a generous living space while being highly accessible not only to major thoroughfares such as the South Luzon Expressway (SLEX), but also within just a few kilometers away from the biggest International Schools, shopping malls and hospitals. AFPOVAI is by no means just a village within a big developed and established community of Bonifacio Global City (BGC), but it's also a great place for a growing family whose lives are highly integrated in the city. 
Best For: Families who want to enjoy a private luxurious home in a community that abounds with green scenery, is close to golf courses, and just a few minutes away from commercial and business establishments, as well as schools and hospitals within Bonifacio Global City. 
Accessibility:
South Luzon Expressway (SLEX)
Bonifacio Global City (BGC), and the Ninoy Aquino International Airports
C5, Bayani Road, and East Service Road
Nichols Exit of the South Luzon Expressway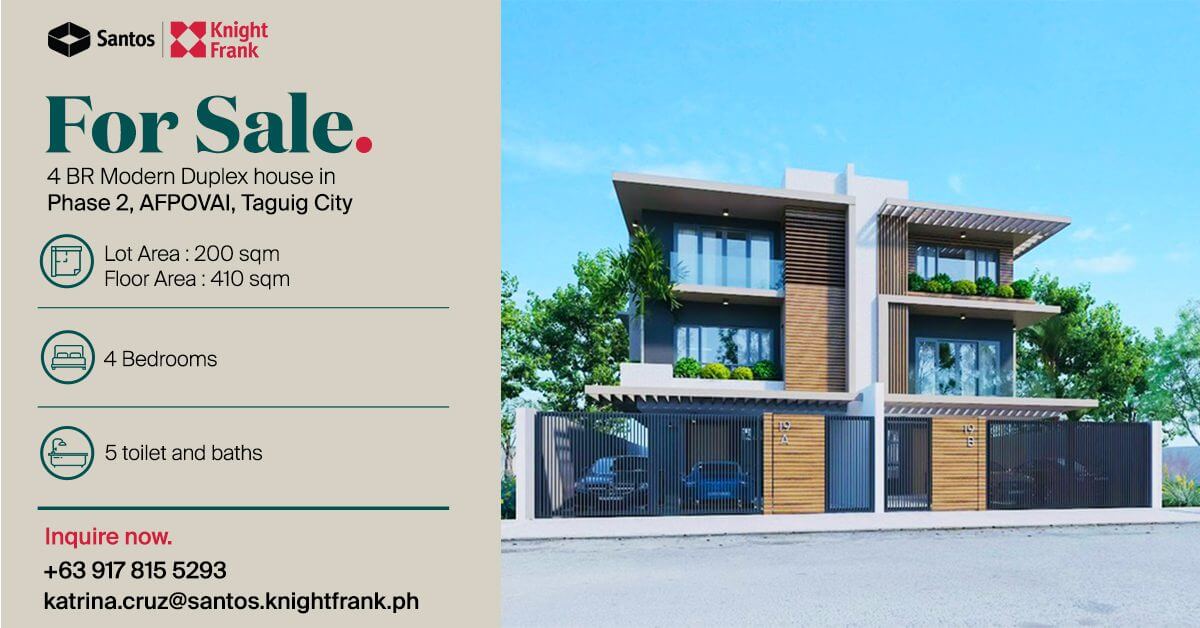 Own this modern-looking 4-bedroom duplex sitting on a 200sqm lot area. Situated in AFPOVAI, Taguig City, this sleek 3-story duplex is perfect for growing families and is within easy reach of prominent commercial hubs, schools, hospitals and business districts in the Metro. 
5BR House and Lot in Phase 2, AFPOVAI | PHP 72 Million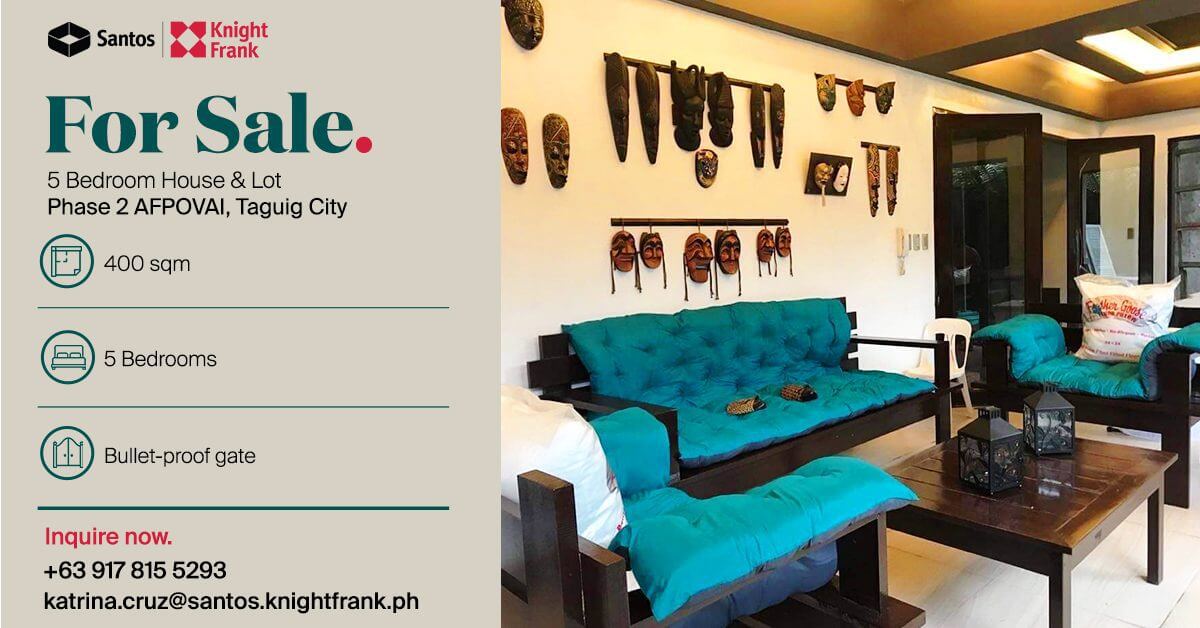 Every visitor of this 5-bedroom house in AFPOVAI Subdivision is greeted by a commanding black door and towering columns that uniquely position the house as an inspired cross between Greek Revival and modern style. Sitting on 400sqm of prime real estate, this house is perfect for families with growing children. 
Multinational Village, Paranaque City.
Multinational Village is a residential subdivision located in Barangay Moonwalk, close to the central business districts of Makati, Pasay, Las Pinas, Alabang, and Taguig. 
Despite being located beside the South Luzon Expressway (SLEX), making it very accessible through this main thoroughfare, Multinational Village still remains as one of the most peaceful areas in Paranaque City. This gated community is home to hundreds of other residents who enjoy their space despite being only a few minutes away from CBDs with the likes of Makati City and Bonifacio Global City (BGC). 
Multinational Village, similar to bigger and more known villages such as BF Homes, also offers a variety of residential homes in different floor areas, shapes and sizes. In the recent years, new houses have sprouted up as a response to the growing demand of families to move further down south not only for the affordable prices of land and housing there, but also in the realization that moving away from the CBDs allow them a bigger space with a house and lot at almost the same cost of living in a condominium or apartment building. To add, Multinational Village is in very close proximity to prestigious schools such as Sacred Heart School, and Holy Francis School and hospitals with the likes of Olivarez General Hospital and Paranaque Doctors Hospital, which makes this village even more ideal for parents with growing children. To top that off, it is also conveniently located near shopping centers such as SM City Sucat, KMart, and Robinsons Place Las Pinas. 
Best For: Professionals who want nearby access to the airport and central business districts such as Pasay, Makati, Alabang, and BGC.
Accessibility: 
C-5 Extension, NAIA Expressway, and Metro Manila Skyway. 
 it is highly accessible through main thoroughfares such as the C-5 Extension, NAIA Expressway, and Metro Manila Skyway.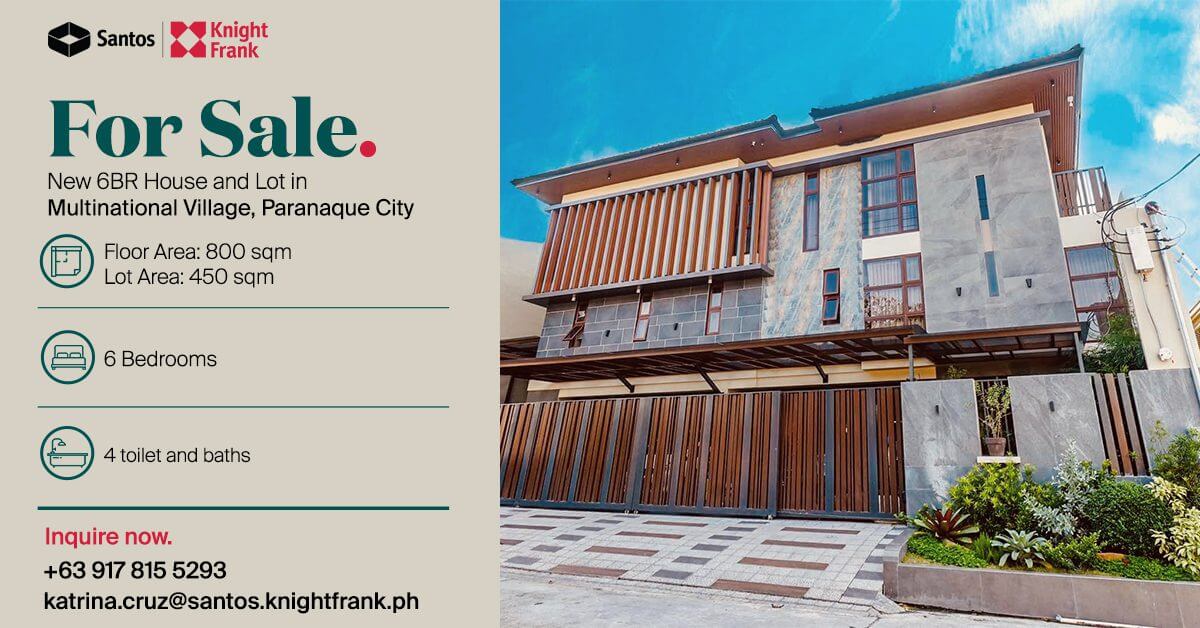 This smart 6-bedroom home in Multinational Village, Paranaque features high ceilings and strong tropical accents that feel like you're living in a modern resort in the middle of the city.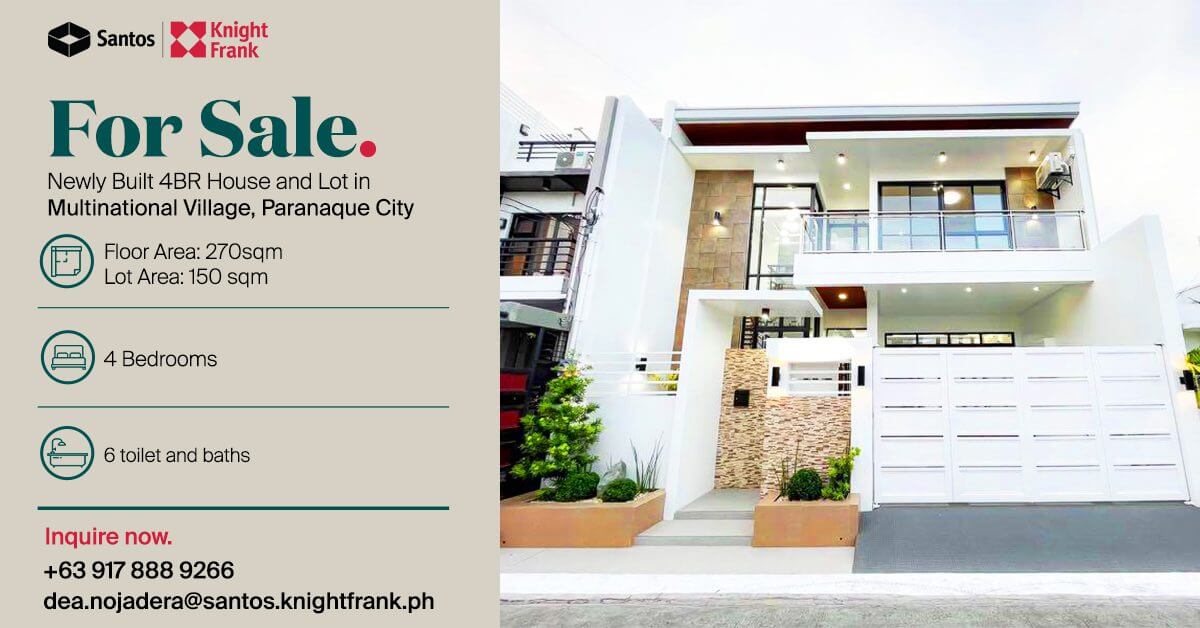 This newly built 2-story modern house features 4 bedrooms and 6 toilets and bathrooms in Multinational Village, a residential subdivision in Brgy. Moonwalk, considered one of the most peaceful environments and convenient places to live in Paranaque City.
McKinley Hill Village 
McKinley Hill Village is a small village located right next to Forbes Park and south of Bonifacio Global City. What many homeowners are not aware of is that you can own a luxurious house over a sizable land area right at the heart of one of the most famous CBDs in the country, Bonifacio Global City (BGC). There are only a few hundred homes within the village so getting the chance to own one is quite a privilege. With homes averaging at a sale price between P40 million to P500 million, compared to that of the bigger condominium units for sale within BGC – the price of owning a home within McKinley Hill Village is quite a catch. All homes in McKinley Hill Village come complete with their own parking garage – something that most condominium unit owners find a disadvantage with condo living. To add to that, McKinley Hill Village is built around very wide streets that's perfect for early morning walks – while still allowing you to make it on time to work because of its very close proximity to business districts. 
Best For:  Individuals who want to live within the city while enjoying a private neighborhood. It is also designed to provide first-rate dining and leisure activities, drawing inspiration from Spanish and Italian communities.
Accessibility: 
Mckinley Parkway Intersection
Bonifacio Global City (BGC), and the Ninoy Aquino International Airports
C5, Bayani Road, and East Service Road
Nichols Exit of the South Luzon Expressway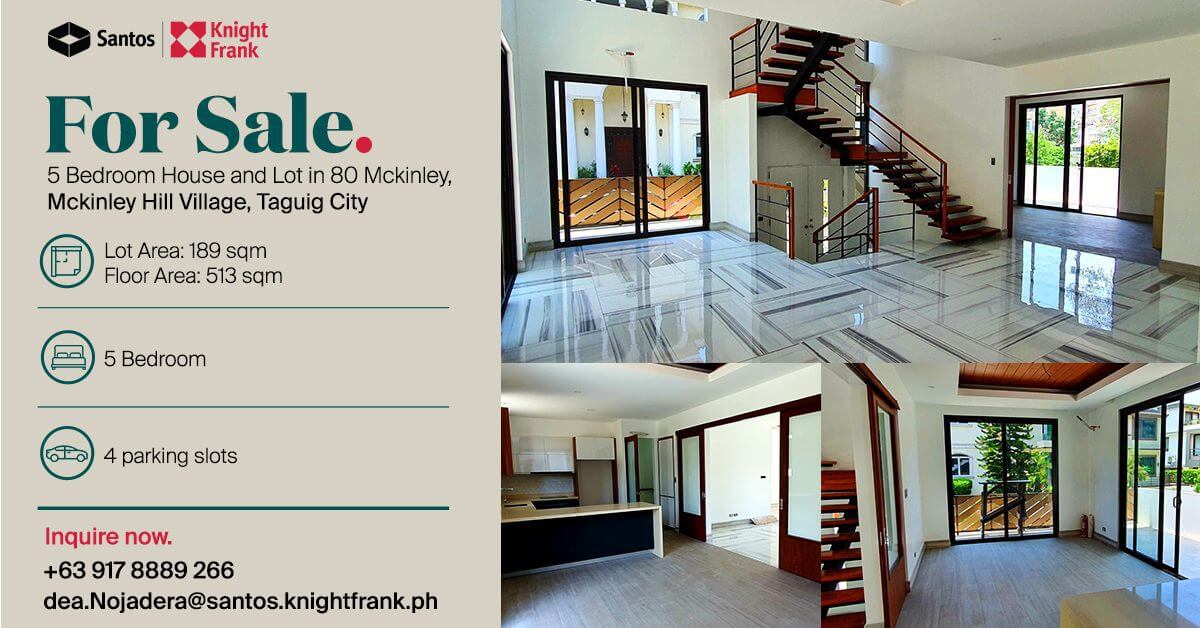 This spacious 3-story modern house in McKinley Hill Village features 5 bedrooms, high-end subdivision at the thriving business and leisure place of Fort Bonifacio.  
Hillsborough Alabang Village
People often think that Ayala Alabang is the only high-end village within Muntinlupa City – but actually, the truth is Hillsborough Alabang Village offers as much exclusivity or even more with its big cuts of land and its tight security. 
Surrounded by neighboring villages like Alabang Hills Village and BF Homes, Hillsborough is a high-end exclusive subdivision located in Muntinlupa. Located right along the South Luzon Expressway (SLEX) and in comparison to the famous Ayala Alabang Village, the Hillsborough Alabang Village is a very small community that's home to only about a few hundred houses. But this is what homeowners love about living here – the fact that they can remain anonymous and private, with the freedom to enjoy their living space while being located a few hundred meters beside the southbound exit to Alabang. 
Best For:  Families who want to live in a house that offers an unconventional style type of design and generous space.
Accessibility:
South Luzon Expressway (SLEX), West Service Road, Osmeña Highway
Situated between Sucat Exit and Alabang Exit on South Luzon Expressway (SLEX), it is located near schools like Southridge School and San Beda College Alabang, and malls such as Ayala Alabang Town Center, and Festival Supermall.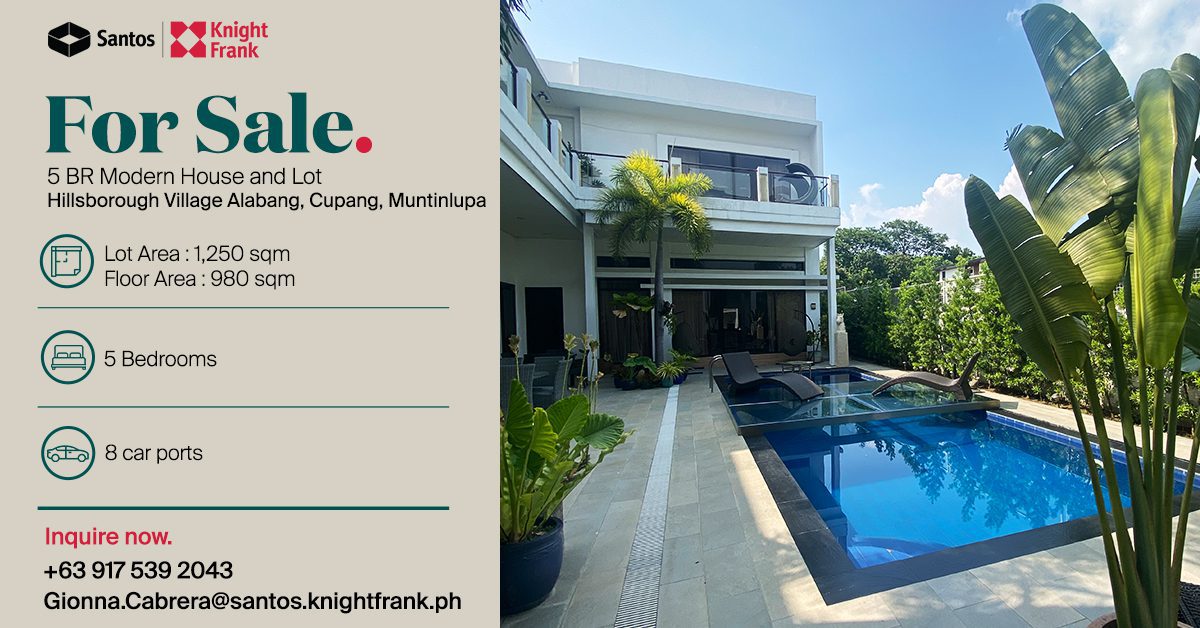 This home features an unconventional style. The geometric layout of the house includes the pentagonal high-ceiling living room, but one that is tempered by the exquisite choice of organic-themed round accents and fixtures spread across the living room to the bedrooms, giving the property two opposing themes that blend harmoniously. 
Ayala Southvale Sonera, Las Pinas City
With the Ayala Alabang Village being home to thousands of residents plus a few schools and a church, many families often feel that the area has become so congested despite its big roads and tight security. Despite that though, there is still a huge demand from families looking for affordable houses and lots in the south of Manila and as a response to that a new development called Ayala Southvale Sonera was born. 
Ayala Southvale is a 210-hectare Ayala Premiere community developed over 20 years ago by Ayala Land, Inc. Ayala Southvale Sonera is located in Daang Hari Road, Las Pinas City, however, geographically, it's actually just by the border of Alabang, Muntinlupa City. In fact, from the entrance to the village, you can actually see the walls of Ayala Alabang, which makes it so underrated because not only is the village equally as exclusive as Ayala Alabang, but the homes are equally as modern and spacious, but with a more affordable price tag! Note as well that Ayala Southvale was also developed by Ayala Land Inc., the same developers of Ayala Alabang Village, so real estate investors will surely enjoy the returns they will receive in the future by investing in a property here, knowing that soon, land could just as well appreciate the same way it has in Ayala Alabang many years ago. 
Best For:  Single-family residents who want strict security measures inside a village and who enjoy being a few minutes away from the commercial and retail establishments in Alabang.
Accessibility: 
Daang Hari Road
It has a strategic location that passes through Muntinlupa at its East and Bacoor, Cavite at its South. Its strict security measures make it a safe place for single-family residents to live in.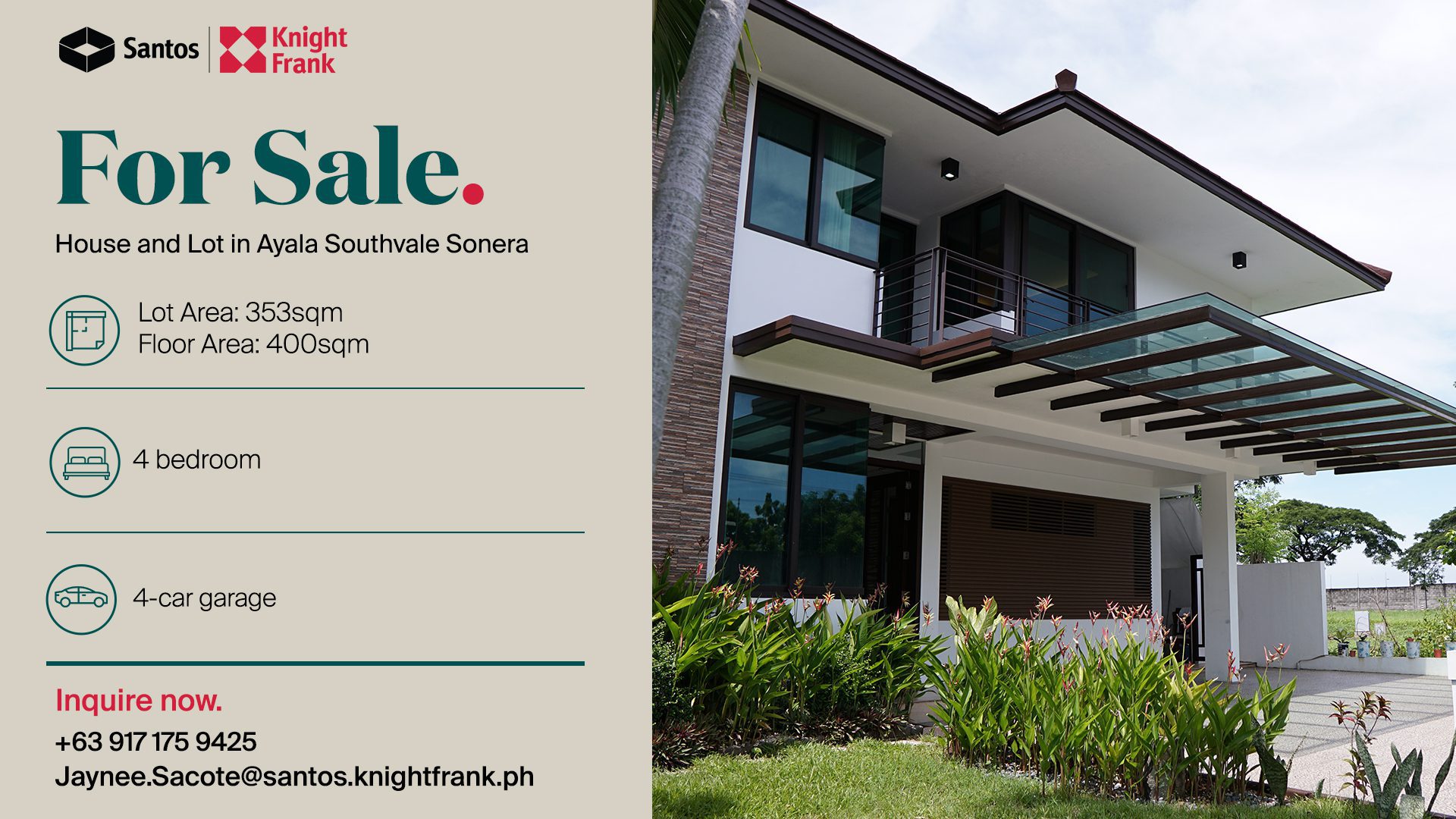 The house is very spacious with white surfaces, wooden accents and glossy wooden flooring; the architecture is modern and minimalist. The property is facing east and it is well-noted that the perimeter is landscaped with beautiful foliage. 
When it comes to finding your next property, look no further than with the real estate experts, Santos Knight Frank.  We are a renowned real estate services agency that has a great track record of serving clients with services such as occupier services & commercial agency, investment & capital markets,  residential & sales leasing, property marketing, research & consultancy, valuation & appraisal, project management, asset management,  property management, facilities management, technical services & engineering solutions. Just visit our website and speak to our real estate practitioners at https://santosknightfrank.com/. 
If you want to know more about the different places to invest in, you can also read about the 4 Rare Houses & Lots for Sale in Metro Manila.