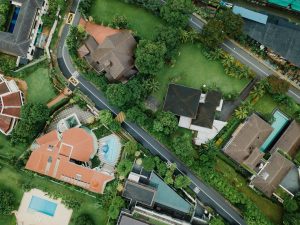 Residential
Families look to gated subdivisions when they want to experience not just convenience, comfort, security, but also the exclusivity that these exclusive villages can provide. One important facet less talked about is the capital appreciation in these areas. This reason is what makes them a good investment for any property owner.
Here is a guide to some of the most exclusive villages money can buy in Metro Manila.
Forbes Park (Makati) 
Forbes Park is the first gated subdivision in the country. It houses the Manila Polo Club and the Manila Golf and Country Club. Often referred to as the "Beverly Hills of Manila. Inside you can find landscaped gardens and luxurious mansions next to the country's wealthiest from celebrities, businessmen, expats, and more. 
Dasmariñas Village (Makati) 
Also known as "Dasma", this village is located at a prime spot surrounded by EDSA, South Luzon Expressway, and McKinney Road. Inside the village are the two parks — Campanilla Park and Mahogany Park, as well as its amenities for sports and recreation such as a gym, basketball, badminton, and tennis courts. Right next to the neighborhood are many private Catholic and international schools, foreign embassies, and Colegio de San Agustin. 
Urdaneta Village (Makati) 
Urdaneta is one of the smallest villages located near Makati's Central Business District. Inside you can find elegant homes as well as a clubhouse and indoor and outdoor basketball courts. Right across from it is Ayala Triangle Park as well as high-end hotels such as Discovery Primea and the Peninsula Manila Hotel, and shopping malls like Glorietta, Greenbelt, Shangri-La Makati, and more. 
Bel-Air (Makati) 
Bel-Air Village was initially a residential village made for the Philippine Airlines Pilots Union as it occupied the farmer Neilson Airport during the American occupation, hence its unique name. Found on the north of Makati's Central Business District, it is dubbed as the Cleanest and Greenest Barangay in Makati for many years in a row. 
Bel-Air is known for its community programs like village-run events, having something for every resident. Next to the village are plenty of dining destinations in areas like Jupiter Street and Poblacion. 
San Lorenzo Village (Makati) 
Situated in one of the richest barangays in the Philippines and the biggest leisure park in the Metro is the San Lorenzo Village or "SanLo." The village boasts amenities from a swimming pool, playground, clubhouse, function rooms, and many more.
Inside the village is the all-girls school Assumption College. The village has a lot of nearby bakeries and dining spots to choose from which residents and professionals alike patronize. 
Magallanes Village (Makati) 
Magallanes Village, while smaller compared to the others mentioned in this list, still has a lot to offer when it comes to real estate. With its suburban quality, the residents of Magallanes get to enjoy being a part of a community. 
Living in the village grants one access to Paseo de Magallanes which is a convenient location of many services and restaurants. It also is situated near the Mall of Asia Complex and the Ninoy Aquino International Airport (NAIA) and the new NAIA Expressway. 
Ayala Alabang (Muntinlupa) 
Ayala Alabang is another upscale subdivision that is bigger than most of Makati's exclusive villages. It is divided into seven districts and features plenty of amenities from parks and playgrounds for children. To sports facilities such as pools, basketball and tennis courts, and football fields. Inside it is the Alabang Country Club, known for its luxurious facilities. 
Conveniently located outside the village are Alabang Town Center as well as the Madrigal Business Park. 
Find your next property with Santos Knight Frank 
Discover more of these exclusive villages through the help of a real estate service company like Santos Knight Frank. With services ranging from brokerage, consultancy, appraisal, property management, and more, you can be sure to find your next property investment. Learn more about Santos Knight Frank by visiting the website https://santosknightfrank.com/.