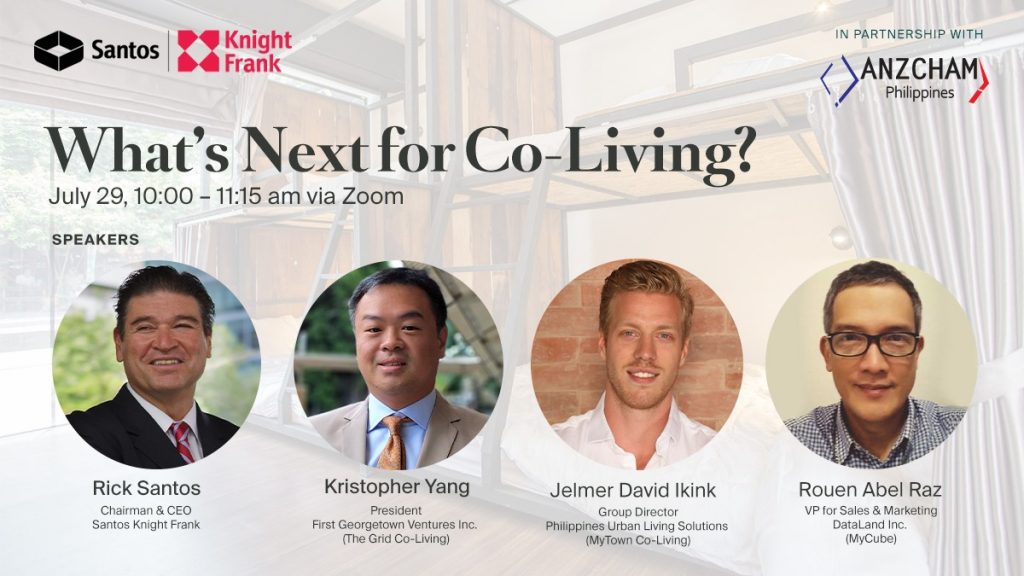 Co-living operators are optimistic about the future of the industry despite the challenges caused by the COVID-19 pandemic, according to the latest property webinar organized by leading real estate service provider Santos Knight Frank in partnership with ANZCHAM Philippines.
Entitled "What's Next for Co-Living?", the online event featured speakers from different co-living brands, namely Kristopher Yang, President, First Georgetown Ventures Inc. (The Grid Co-Living); Jelmer David Ikink, Group Director, Philippines Urban Living Solutions, Inc. (MyTown Co-Living); and Rouen Abel Raz, VP for Sales & Marketing, DataLand Inc. (My Cube). The panel was moderated by Rick Santos, Chairman & CEO of Santos Knight Frank.
State of the co-living industry
Since 2015, the number of co-living spaces has significantly increased. Data from Santos Knight Frank shows that the supply of branded and non-traditional co-living spaces in Metro Manila jumped by 141% from 2015 to 5,700 rooms in 2020. There are nearly 700 additional rooms in the pipeline that would be launched after this year.
"Co-living is a trend that won't go away anytime soon. There is a huge opportunity for growth within this sector, driven by the need for affordable transient housing for young professionals. This opportunity will be further realized once the economy returns back to normal", says Alvin Fernandez, Senior Director of Investment & Capital Markets of Santos Knight Frank.
Co-living during the pandemic
Jelmer Ikink of MyTown Co-Living described a number of best practices that his company implemented to ensure the safety and security of its tenants. He believes that the benefits of co-living during the pandemic is now truer than ever, emphasizing: "It's not just providing accommodation that's important; it's the need to provide a full ecosystem of living, working, and playing for tenants to have a zero-commute lifestyle so that it will reduce the risk of community transaction, and providing open spaces for tenants to feel at home. Co-living is not just micro-living, but it's providing a full lifestyle."
Ikink further adds: "Co-living can result in an up to 98% reduction in human contact in confined spaces because tenants wouldn't have to go through a two to three-hour commute anymore," saying that co-living habitation would typically provide the same amount of on-premise interaction as the average household.
Investments
Co-living will continue to attract investments in the long term. Kris Yang of The Grid Co-Living says, "People are looking for cost-efficient ways to live in the city. After COVID-19, people are going to put greater emphasis on health and safety. Employers may result to providing housing as an additional benefit to their employees and that makes it an additional opportunity for co-living operators."
Co-living spaces are going beyond central business districts, with developers seeing opportunities in the outskirts of Metro Manila. DataLand has recently unveiled MyCube, its co-living concept in Binan, Laguna, which would cater to both students and industrial employees once construction is complete. "We are capitalizing on the highly concentrated logistics and warehousing facilities in the area and will offer our co-living services to their employees," says Rouen Raz of DataLand.
Rick Santos of Santos Knight Frank concludes: "The demand for co-living spaces in and around business districts will still be driven by professionals, including those returning to the office. Factors such as transportation problems, proximity to work, and lifestyle will still be key. At the same time, the pandemic has pushed businesses to prioritize liquidity, and so we also expect to see a number of activities happening in the co-living sector, specifically acquisition, selling, and non-bank financing. This would be a strategic time for entrepreneurs to look for opportunities in this sector."