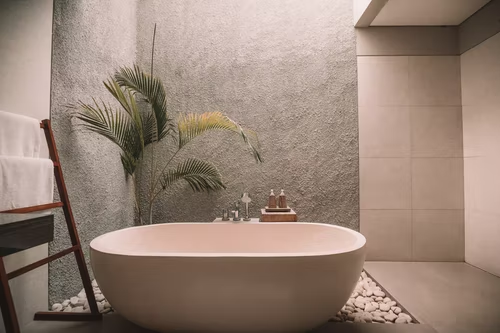 Residential
Since the pandemic started, there has been a significant shift in the kinds of spaces homeowners prefer, such as having a cleaner and greener home. In the Santos Knight Frank Global Buyer Survey of 2021, 64% of respondents expressed the importance of energy efficiency in their future homes. For those looking to build a home in the outskirts of the city or in the province, then building a sustainable home may be the one for you. Let's take a closer look at sustainable homes. 
What makes a sustainable home? 
A sustainable home is one that can create the least negative impact on the environment, such as avoiding carbon emissions, and using green materials, all while creating a positive impact on the home's inhabitants. 
Location — There are ways to lessen environmental impact such as choosing a location that is strategically located near public transportation spots, making use of existing infrastructure, and avoiding any potentially hazardous sites like flood prone-areas. Moreover, living in an environmentally sensible and sustainable location not only offers you tons of opportunities but is beneficial to the environment as well.
Size — A smaller house means fewer materials and energy used in its construction. Try to think about your family's needs so as not to waste the additional space. We think that some of the most important features of tiny houses you need to live comfortably are the following:
Main loft for the bedroom

A fully equipped kitchen

A full bathroom

Multi-purpose areas for dining and lounging.
Orientation and Layout — Part of a sustainable home is deciding the most efficient way to layout the structure of your house. For example, in warmer areas, building a home that allows for natural ventilation to capitalize on airflow can save you on expenses on air conditioning. Layout-wise, a more compact house tends to be more energy-efficient than a spread out one. 
Materials — Choosing to use sustainable materials is essential if you want to make a sustainable home. With this said, however, it takes more research as sometimes there might not be enough options near your location. Making use of recycled materials such as reclaimed wood and masonry, recycled drywall materials is also a good way to go.
How to build a green home?  
There is a misconception that building a sustainable and green home is costly and hard to do. But it all lies in the design, in finding the right green building materials, and in doing effective project management.
The first step lies in finding a sustainable lot for the new home. Try to check if there is good insulation in the area. Moreover, check if it is a strategic location, so you reduce your carbon footprint. 
Budget is another important consideration. Going over budget with materials and labor are not uncommon in constructing green homes, so planning is of the essence. Should you miss your projected targets, make sure that you have a financial buffer in place. Timelines can also change, so make sure that you take into account possible delays in shipments.
If you wish your home to be a LEED-certified house, then it is imperative to have a green architect. Experienced architects can make a huge difference in the efficiency and overall success of a sustainable home. They can also assist you in finding the right green building materials that are also high-performing. 
Building your next green home
Make your sustainable dream home into reality, together with Santos Knight Frank's project management services. Santos Knight Frank is a real estate agency with a great track record of serving clients with services such as occupier services & commercial agency, investment & capital markets,  residential & sales leasing, property marketing, research & consultancy, valuation & appraisal, project management, asset management,  property management, facilities management, technical services & engineering solutions. Learn more about Santos Knight Frank through the website https://santosknightfrank.com/. 
If you want to know more about real estate investment tips, you can also read about Condo vs. house: Which is the better buy for my family.