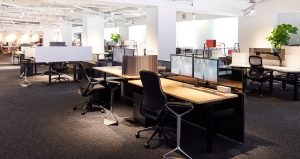 For any business, an office is not just a place of work but also a hub where employees can collaborate closely together. There are two popular ways of securing an office space: one is to build one's own office after leasing or acquiring it (traditional/conventional office space) and another is to rent a serviced office. Learn about the difference between the two and the factors to consider in deciding which kind of office would be the most ideal for the business. 
Traditional office vs Serviced Office 
Traditional or conventional offices are usually secured through a long-term lease from a landlord, where the rent is dependent on the size of the office. This means that should companies downsize, their monthly lease would not change as it follows the agreed-upon terms from the lease contract. Companies with a traditional workspace can have complete control over how they want to design their office. IT businesses can have better privacy as they can keep their own infrastructure manned by their own employees, with their fit-out works or IT equipment are a one time long-term investment. 
Serviced offices (some call co-working spaces) on the other hand work on much shorter-term leases and can be very flexible based on the needs of the company. These come with a plug and play set-up so the timeline to start operations in the office is immediate. Think of serviced offices as like hotels: you pay for the convenience of the ready facilities and the flexibility of short term stay.
This option has become appealing for new companies testing the waters and for companies without presence in the Philippines yet. Companies looking to downsize however will still find no change in their monthly rental payments as the contract for serviced offices is on a per seat arrangement. Companies that are not able to set aside a budget for fit-out construction and IT infrastructure may find this arrangement more agreeable. 
Budget 
One important factor when deciding on an office space is the budget that a company has allotted for it. If the business is well established and can afford fitting out an office and a long-term lease contract spanning years, then having a traditional office is the way to go. 
This flexibility may not be immediately available to newer businesses which will relatively need more control over up front costs. They would find it easier to pay for only the space that they need with a serviced office, the fees of which already cover the facilities and services such as maintenance, cleaning, and equipment. This is perfect for moving in as there is little to no downtime and can give rental savings, freeing up space for other business needs. 
Strategic location
Getting an accessible and attractive office is ideal—this can mean being in the center of the city that can attract the best talent, being near the important transportation routes, and being in the vicinity of other similar firms. 
Facilities, infrastructure, and services 
An advantage to a traditional office would be getting to design one's own office the way they want it to—from the equipment, furniture, and layout. For established companies with already their preferred equipment and IT infrastructure, this would be ideal to be able to have the office that suits their needs. 
However, for businesses still without their own equipment and technology and do not have the budget to spare to get their own, serviced offices can provide a good alternative. Serviced offices can provide users with services and equipment that they may need on a pay-as-you-use basis. Tenants in serviced offices can pay for the facilities or additional meeting rooms on-demand, giving tenants much-needed flexibility when it comes to costs. Serviced offices can also come with services such as maintenance and administrative services. 
The verdict
Traditional and serviced offices both have their advantages for any business needing a space of their own. The important thing is that the office space is able to align with the goals of the business. Get advice from a real estate services company Santos Knight Frank in deciding one's next office space. Santos Knight Frank has a strong track record in various real estate services from brokerage, consultancy, office fit out, and more. Learn more by visiting https://santosknightfrank.com/.