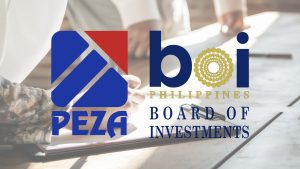 The transfer of registration of IT-BPM companies in the Philippines which are enjoying fiscal incentives from the government is one of the most important industry issues as of late.
Work-from-home and hybrid work have become popular setups in the IT-BPM sector in the country since the pandemic forced millions of jobs to shift to remote work. Rules by PEZA, where around 1,200 IT-BPM companies are currently registered and therefore enjoying fiscal incentives, require 100% onsite work. This rule is waived temporarily, adjusted to allow a ratio of 70% onsite and 30% remote work until the end of the year.
To resolve the issue, the Fiscal Incentives Review Board has come up with Resolution No. 026-22 on September 14, providing a smooth transfer of registration for companies who wish to continue with full or partial remote work from PEZA to the Board of Investments, another investment promotion agency, which allow such a setup.
During a webinar on November 8 hosted by the British Chamber of Commerce Philippines, PEZA's Atty Ross Vincent Sy, group manager for enterprise regulations and support services, said PEZA-registered businesses will need to file an application for transfer until December 16 of this year.
Requirements
Three essential requirements are needed to apply for the transfer:
A request form to register with BOI (this form may be downloaded from PEZA's website under "Downloads")
Copy of PEZA certificate of registration (COR)
Copy of registration and supplemental agreements
Step-by-step process
The requirements should be submitted to itbpm.transfer@peza.gov.ph, where PEZA will verify the information before endorsing to BOI.
After the applicant company pays an applicable fee to BOI, BOI will issue a BOI Certificate of Registration.
The applicant must furnish PEZA with its BOI Certificate of Registration for annotation in the PEZA Certificate of Registration. PEZA's Office of the Board Secretary will be handling the annotation.
Still under PEZA rules
Despite the transfer, Sy emphasized that the registered business will still be subject to PEZA's rules and regulations specifically on compliance and fiscal incentives. This also means that businesses whose registrations have transferred to BOI are still required to maintain an office inside PEZA-registered IT centers or buildings, although PEZA will not impose a minimum requirement for the size.
Furthermore, PEZA will still provide PEZA visa, automated importation, issuance of building permits, and other non-fiscal incentives.
Businesses that have not applied will be required to return to a 100% onsite work by January 2023.