With less pandemic restrictions, people are returning to their pre-pandemic state of affairs. According to a Time article, employees are back in offices, students in universities, while bars, restaurants, and other establishments are reopening. As a result, people are drifting back to cities for convenience and accessibility leading to a growth in residential demand.
Demand for condominiums in central business districts of the country has risen according to Business World. Without a doubt, condominiums are a good investment and may be the best option for you if you're planning on living around the metro too. 
Aside from a lower entry price than standalone houses, condominiums are more practical in terms of 1) maintenance, since condo owners are not responsible for any exterior property maintenance; 2) security, because condo buildings have enhanced security systems, 3) convenience by having community amenities, and lastly; 4) accessibility, as condominiums are built near essential establishments, offices, universities, and many more. 
Condominiums offer great comfort and ease of living. All you have to do is to find the perfect haven where you and your family can thrive. With this, we listed down some condo units worth checking out if you're on a condominium hunt.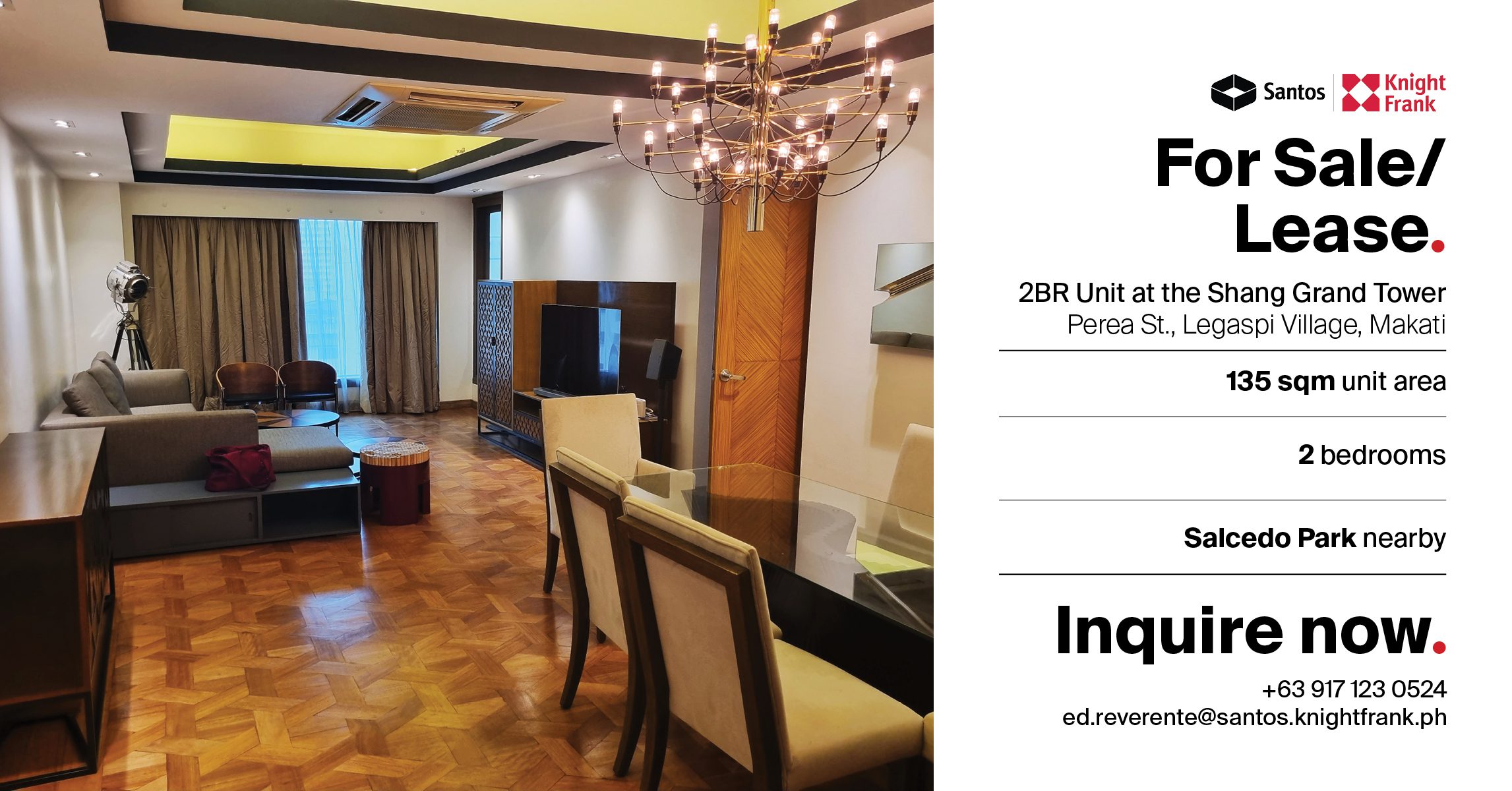 This 135 square meter, 2-bedroom apartment at Shang Grand Tower is ready for occupancy and comes fully furnished. This is perfect for individuals or couples who prefer living close to Makati's commercial and business districts.
The art-deco-style 46-story Shang Grand Tower is a Shang Properties, Inc. residential building. The building features modern amenities such as a function room, swimming pool, jacuzzi, kiddie pool, gym area with steam rooms, and kids' playroom.
The Salcedo Saturday Market, Landmark, Glorietta, Greenbelt, as well as a variety of upscale business, retail, and entertainment establishments are all nearby which makes it accessible.
The apartment has 3 bathrooms and toilets, dining and living areas, maid's quarters, and 2 parking spots.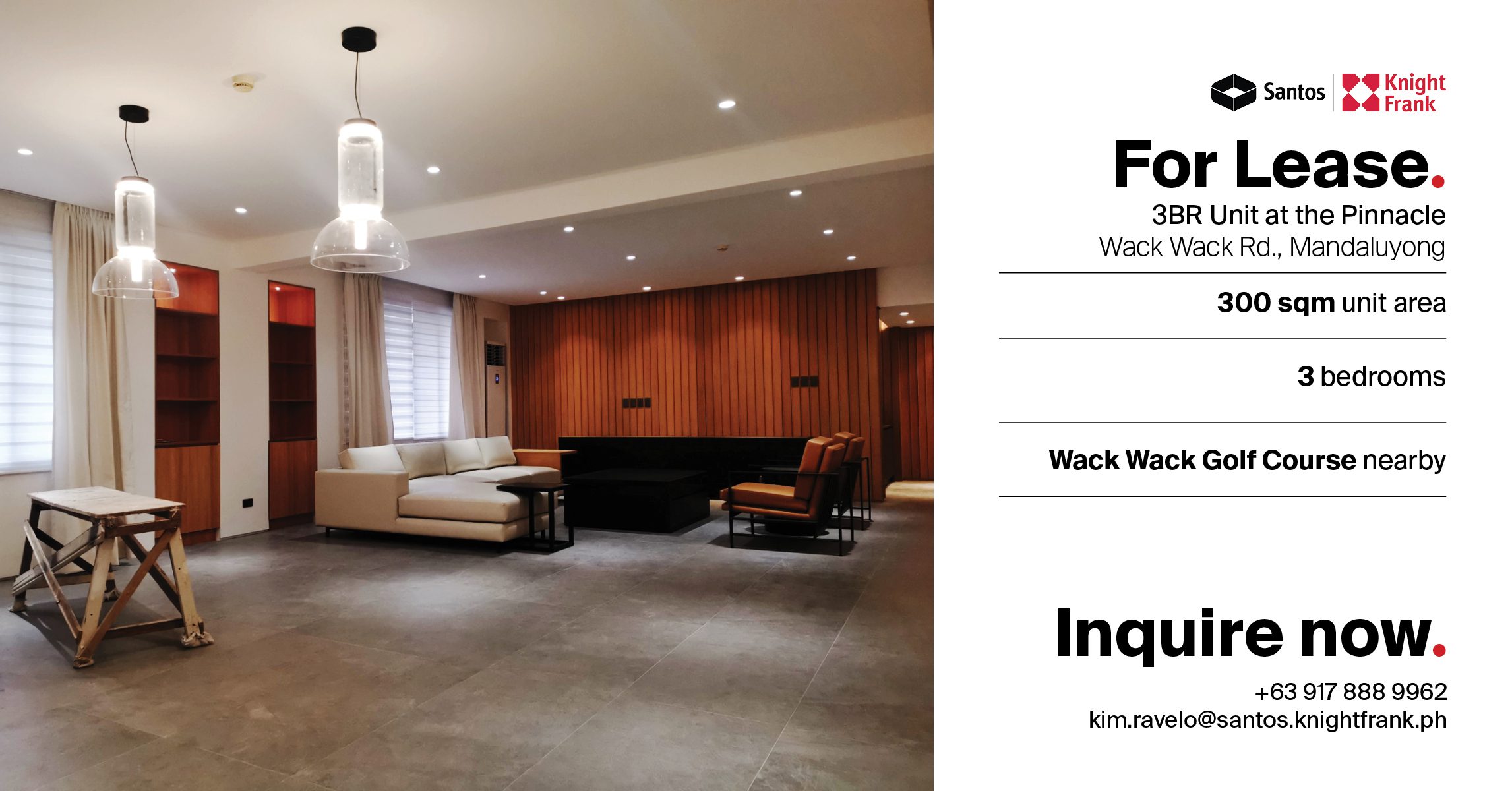 This 300 square meter, three-bedroom apartment has a stunning view of the Wack Wack Golf Course. The master bedroom boasts a sizable walk-in closet, which not many condominium homes offer. Depending on the needs of the lessee, one of the bedrooms can be turned into an office area. The apartment's semi-furnished interior features warm oak and marble accents, providing a tranquil setting.
The Pinnacle Condominium is one of the few residential structures that surrounds the golf course. The property, located along Wack Wack Road and near Shaw Boulevard, provides the convenience of working and living in the heart of Metro Manila.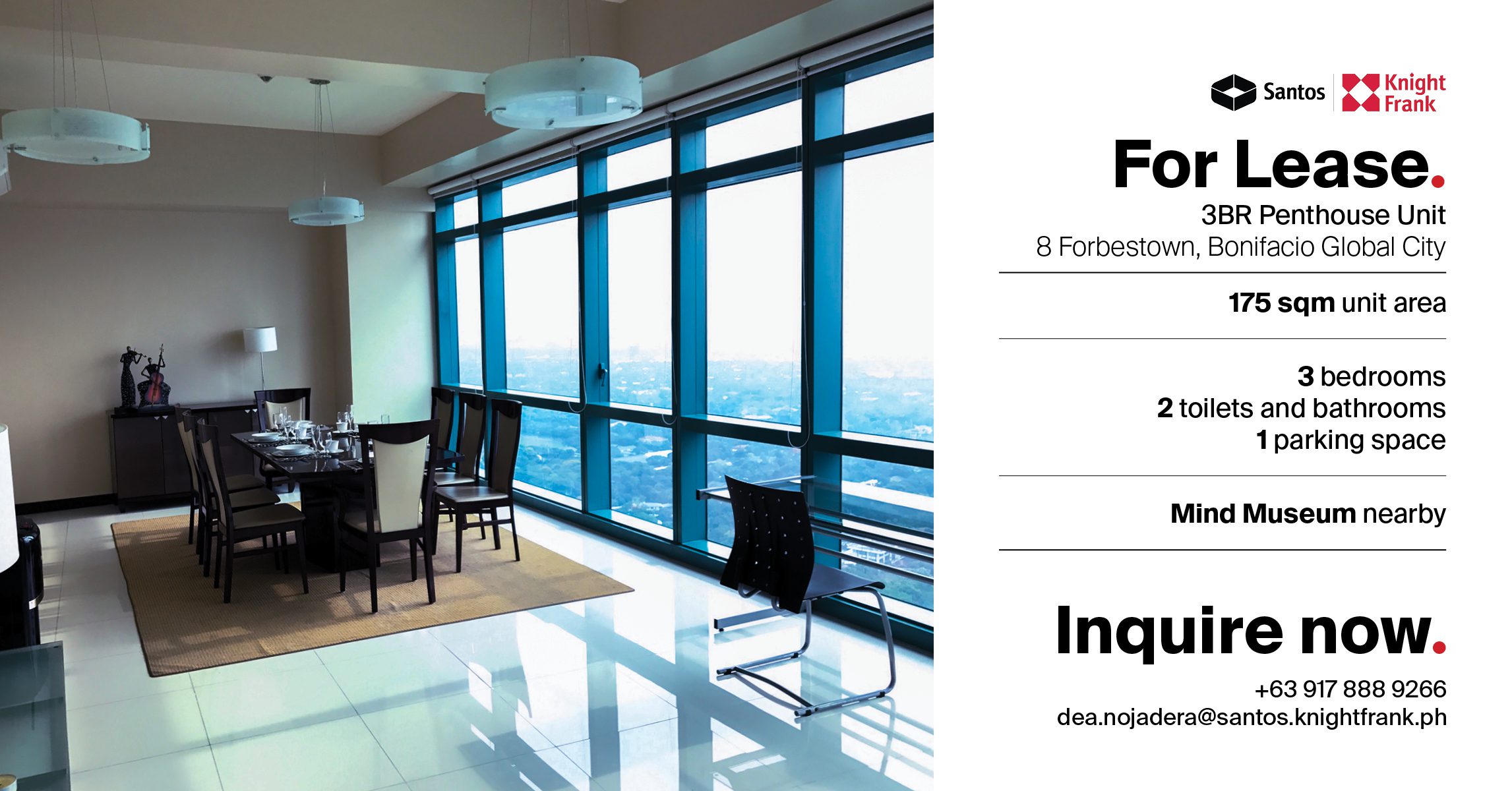 This 175 square meter, 3-bedroom penthouse property in the Eight Forbestown Road Condominium in Taguig City is available for rent.
Eight Forbestown Road Condominium is a 53-story residential condominium near the Manila Golf Course and The Bellagio Towers. It features a retail and mall area on its ground and second floors, catering to all your needs with a variety of shops, a supermarket, and separate lobby for residential apartments. Its other amenities include a swimming pool, gym, meeting spaces, and a children's play area. This extremely roomy and contemporary unit also offers a stunning view of the downtown skyline while everything you need is just a few floors away or right around the corner, providing excellent accessibility and convenience.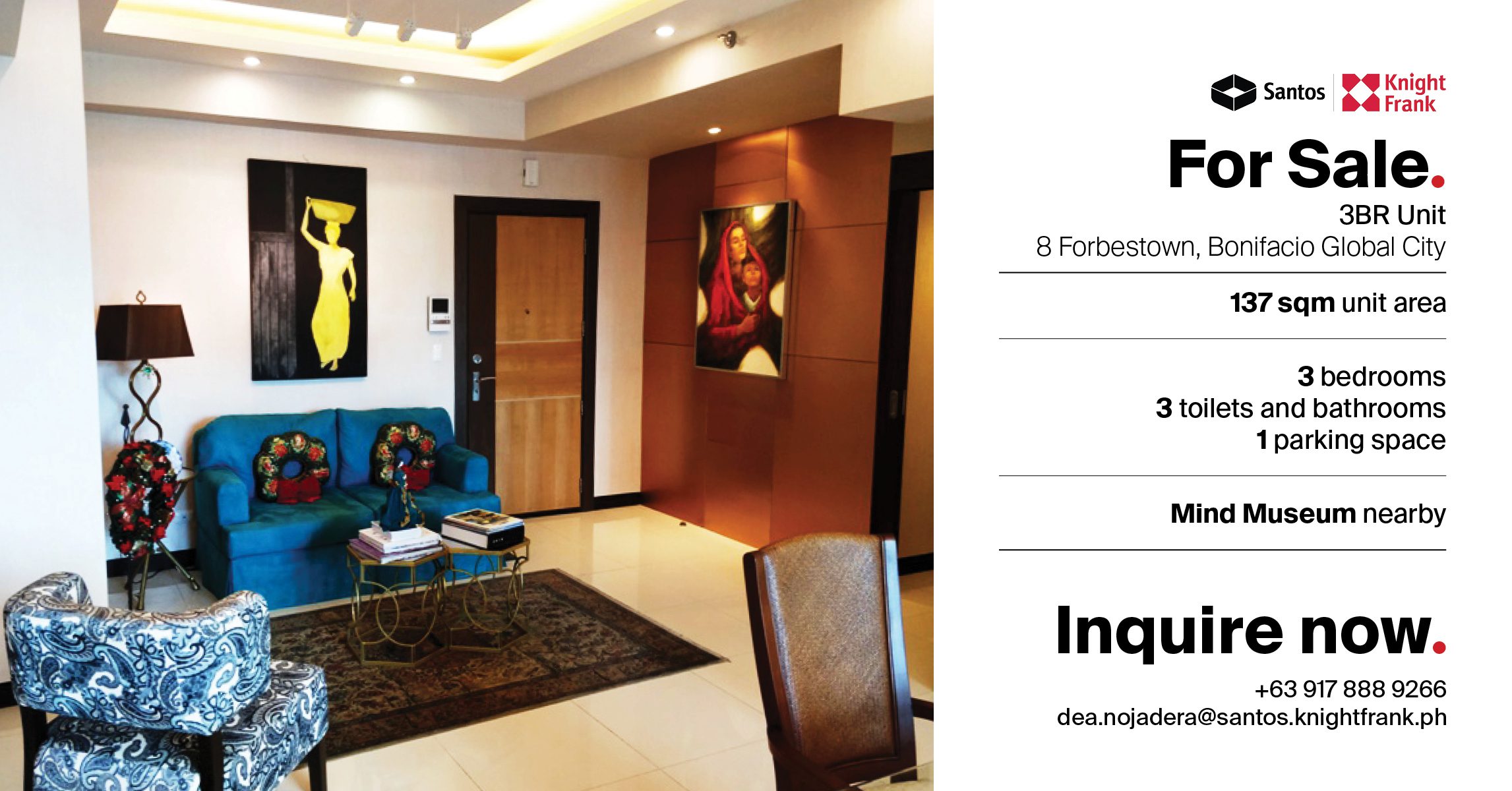 This 137 square meter, 3-bedroom contemporary condo unit, in BGC, Taguig, is up for sale. This gives a view of the Bonifacio Global City skyline and is situated in the center of the neighborhood. It has 3 bedrooms, 3 bathrooms, 1 parking space, and a maid's room with its own bathroom and toilet. 
Like the previous 3 Bedroom Penthouse, this unit is conveniently located near shops and supermarkets, reducing the need to travel for necessities. It lists a swimming pool, gym, meeting spaces, and a children's play area as some of its amenities. Nearby landmarks include One Bonifacio High Street, Ascott BGC, Mind Museum, Manila Golf and Country Club. Literally, everything in one place!
These condominium units are in good condition, ready for immediate occupancy. If you're interested in any of these, talk to the real estate experts in Santos Knight Frank. 
Santos Knight Frank is a renowned real estate services agency that has a great track record of serving clients with services such as occupier services & commercial agency, investment & capital markets,  residential & sales leasing, property marketing, research & consultancy, valuation & appraisal, project management, asset management,  property management, facilities management, technical services & engineering solutions. Just visit our website and speak to our real estate practitioners at https://santosknightfrank.com/. 
If you want to check out more spaces, read 4 Homes with Lavish Space & City Views You Can Rent in Makati