Caesar Vallejos, Eagle News Service
Amid a high inflation rate and a weakening peso, the Philippines remains to be the most attractive inbound investment destination in the region for Information Technology-Business Process Outsourcing (IT-BPO) companies.
According to Santos Knight Frank, the world's largest independently owned property consultancy, the investors are "eager to capitalize on the country's sound macroeconomic fundamentals, excellent pool of low cost-skilled labor, outstanding customer service, continuous infrastructure development and one of the cheapest rental rates in Asia."
In a Press Conference that highlighted the future of BPOs, Rick Santos, Chairman & CEO of Santos Knight Frank said "we're still pretty confident with the underlying structured macro-economic fundamentals in the Philippines. When you have a 6% growth, that's a positive strength.  But "for a growth of 2 to 3 percent, we would be very worried," he alarmed.
'No alarm bells are going off yet'
"in general, the depreciating peso has been positive for the BPO sector."  He recalled that "two years ago, we had a truly appreciating peso, there were fears then that all the BPOs would leave because the peso was getting too strong."
"For exporters and call center BPOs to have appreciation of the peso is actually great because a lot of their earnings were in dollars and costs were in pesos.  So that was a positive sign," Santos explained.  However, he also welcomed the fact that "the Central Bank will also put measures to stop the slide and I think that will be managed going forward."
Santos said that the inflation rate is "something that must be watched closely specially for emerging markets" like the Philippines.  "Interest rates for years have been on historical lows but we don't see any direct negative effects on the real estate market.  At the moment, it'll be great to see the growth of inflation to slow down a bit, that's our concern but no alarms bells are going off yet," he added.
The company had talks with the with Asian Development Bank and World Bank and they are not seeing a scenario similar to what happened in Argentina that is undergoing a fiscal crisis and whose econoy is expected to shrink at 2.4% this year. "We are not seeing that happening here at all," Santos projected.
With the many building developments in the country, "you see a situation where you are creating a nation of owners as opposed to renters.  It is giving the people the ability to  build equity," Santos added.
He also said that two or three years ago, there were looming talks in the residential market of an oversupply. "That clearly never happened and you've seen residential capital valleys rise.   We are seeing real growth," he said.
Wealth diversification
Alistair Elliott, Senior Partner & Group Chairman, Knight Frank while reaffirming the company's optimistic view, sees the Philippines still an emerging market.  "It is viewed in not necessarily the highest priority but it depends where you are in the diversification arena," he said.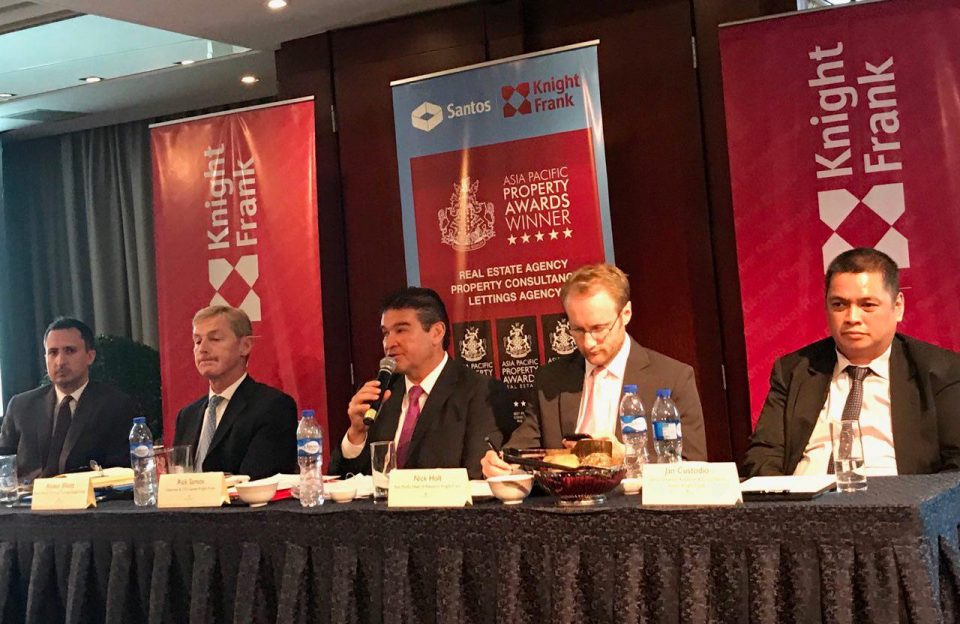 Traveling for the first time in the Philippines, he said that the country "is gaining peoples' attention and if you continue in your infrastructure and if the economy continues to grow, anything over 5% puts your country in a league of its own.  That will lead to more and more investments."
However, he noted that the Philippines must look at the area of diversification.
"The growth in global wealth is a producing a need for diversification. In the Philippines, whether that growth is with private individuals, private equity wealth or sovereign wealth as they look for diversification and as your economy and infrastructure and real estate grow, I think the two will collide ad we will see more investments in the Philippines," Elliott said.
He also stressed that the "investors must be satisfied about transparency and value and their ability to control their investments."
Santos Knight Frank recently brokered the largest office lease in Philippine history — a 70,000-sqm deal between JP Morgan Chase & Co and Megaworld in the Bonifacio Global City. "This speaks a lot about the level of confidence in the country's real estate market and Santos Knight Frank's leadership position in the commercial office leasing sector," Elliott said.
Bright spots
According to Santos, the Co-working business model is "an amazing phenomena, whether its AirBnB which is the biggest real estate that does not own any real estate or Uber and Lift which are major transportation logistics company who don't own any cars."
"We have adopted the phenomena of co-working and co-sharing. We are seeing that cross over into the adult dormitory space.  We are seeing a lot of people now on the fringes of the city who walks to work and who don't want to sit in their cars for hours and that's an extremely robust business,"he said.
Santos said that the concept co-working and co-sharing are adopted both in the office and housing spaces.
"We are taking people out of Starbucks, out of their living rooms and putting then into a co working site which is in a grade A building in the Metro and that's actually quite big in the office market,"Morgan McGilvray added.
He said that the bright spots in the Philippines include "Knowledge Process Outsourcing (KPO), back office health, back office architecture and back office legal.  These are the BPO agents going up the value chain and providing high end services for their companies and clients around the world."
He also added that "the first call center BPO in Puerto Princesa in Palawan provides opportunities for people living in the province" as another bright spot.
Future of BPOs and Real Estate Market
Santos shared other developments in the BPO and real estate markets that include the following:
Strong demand for office space continues. The overall office vacancy rate – currently 4.5% – continues to contract, which is a positive sign.
An unprecedented volume of 1.5 million square meters of office space will be introduced in the second half of 2018 – much of which we believe is already pre-committed.
Manila has the second fastest year-on-year rental growth in Asia Pacific. It also remains the second most affordable with one of the lowest gross effective rents.
The average cost per BPO employee in alternative destinations such as China and Mexico is twice as expensive as the Philippines.
Across the real estate market, we continue to see collaboration being a central theme of development – such as in co-working (shared offices), co-living (adult dormitories) and co-sharing (collaborative retail space).
The retail real estate sector also continues to grow. Shopping mall expansions across Metro Manila will increase by another 500,000 square meters this year.
As property prices within Metro Manila surge and the supply of land becomes limited, investors and developers are looking to regional areas such as Metro Clark, Metro Cebu, Davao, Iloilo and Bacolod – reflecting a global trend.
Infrastructure challenges and congestion have helped accelerate gentrification on the fringes of the central business districts.
Artificial intelligence is moving the Philippine BPO industry up the value chain and presents a unique opportunity. The ongoing upskilling efforts will place the Filipino workforce in the best position to take on new roles and jobs generated as a result of AI.
Article source: Eagle News