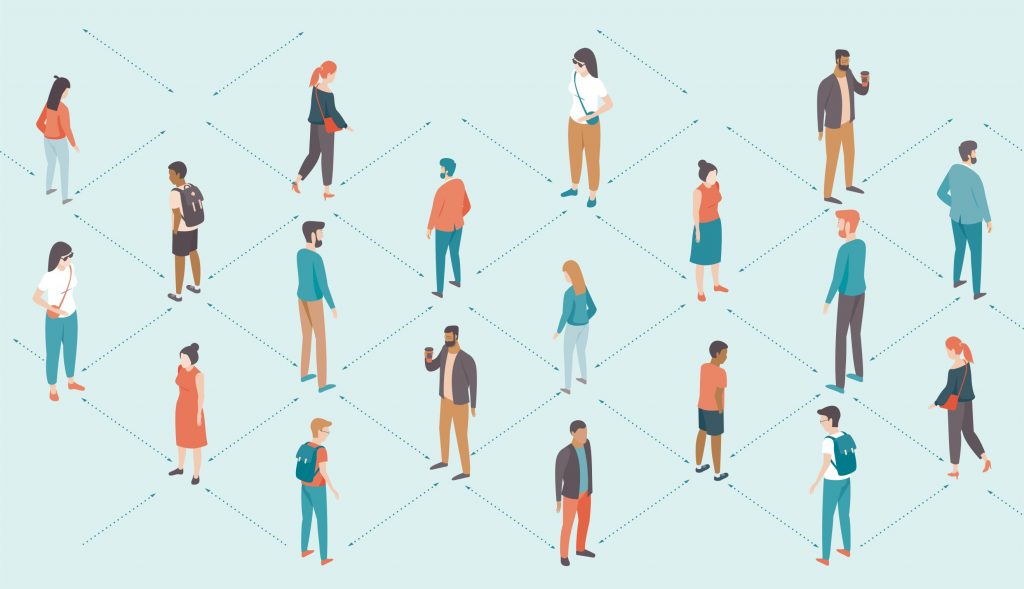 The past few weeks saw an unprecedented amount of creativity in the use of virtual platforms. Not only were meetings and training held virtually, but even happy hours, coffee sessions, and game nights were also virtualized. We would not have been propelled to this seemingly futuristic way of engagement had it not been for the COVID19 pandemic. As the world learns more about the dangers of the unseen, having virtual merged with the physical will likely be part of how businesses run moving forward.
But virtual engagement is just one outcome of the lockdown necessitated by the COVID19 pandemic, and it branches out over many other considerations:
OFFICE RE-OCCUPANCY
This should be at the top of our minds presently, because unless a vaccine is released, COVID19 will continue to be a threat even after the lockdowns are lifted across different countries. When they do get lifted though, prime considerations to get offices re-started will need to consider distancing, limiting the spread of infections, and keeping productivity up.
How will space be managed then? Is there a way to reduce density in the office? What work-settings are at high risk of person-to-person interaction and thus have increased chances of transmitting viruses? What changes in behavior should be expected from everyone?
Our colleagues from Knight Frank provided a guideline for formulating a way forward for office re-occupancy. You can find further details here https://www.knightfrank.co.uk/blog/2020/04/20/covid19-office-reoccupancy-roadmap?dm_i=5H76,6Y8X,224J6T,QLQ1,1. Essentially, the two phases include the physical behavioral workspaces:
The physical workspace will need to be prepared effectively to enable workers to report to work and continually do so. This includes increased frequency of surface cleaning, regular air filtration checks, appropriate bins for specific rubbish, and vehicle (fleet) concerns, among others.
More than this though, policies will need to be in place which are in line with the different philosophies of respective companies. Companies will need to balance the need for physical collaboration with the higher need to keep employees safe. Deep thought will be needed to create temporary policies of alternating groups of staff working at the office and those working from home, which seats may be used, how face-to-face meetings will be held, whether mandatory testing will be needed prior to being allowed into the office, and other guidelines which will be needed to keep the workplace safe. Indeed, whether these policies remain temporary will also need to be considered.
Behaviors will likewise need ample preparation to ensure that employees are mentally and emotionally prepared to work in a less secure area compared to the quarantined setting. To a large extent, re-occupancy policies will influence how comfortable workers are at the workplace and with their colleagues, both of which will affect how productive they can be.
Company expectations will also need to be set forth clearly. Each employee will navigate new waters in dealing with colleagues and clients, and productivity will surely take a hit. If companies recognize how this can be mitigated and improved, the adverse effect that the pandemic is causing may be limited.
REAL ESTATE STRATEGY
As an immediate impact, companies will need to re-think how real estate is used and how offices are laid out. We believe headquarters will still be a necessity. However, the intensity of usage and the ripple effect will need preparation.
All offices need to widen densities (seats per square meter of space) to aid in distancing measures. Cost considerations will not necessarily mean companies will expand footprints in headquarter-type districts however, so options for alternative office strategies may need to be implemented. Hub-and-spoke models, use of serviced offices and co-working facilities, and a work from home policy will be part of the different options on the table as companies navigate the new working environment. With the primary considerations of safety with productivity, companies should create a system bespoke to their needs, policies, and philosophies.
COST
Cost implications will be tied to strategic and operational changes that companies will adopt. Thoughts and decisions will be guided by these questions:
–      How will physical distancing impact office space and size requirements?
–      How will this affect current HR policies?
–      Will these changes impact overall staff compensation?
–      How will companies ensure continued connectivity in case a similar event happens again?
–      With regards to new operation standards, how often should cleaning be done?
–      Is there a better cleaning solution to kill viruses and bacteria?
Each answer a company has to these questions affects the costs to be incurred. Changing the office means new capital expenses, though reducing footprints will have a positive impact on long-term P&L.
Immediate effects of any change to the physical environment will skew towards the negative though. As such, balance is required among this required change, worker safety, and productivity demands.
PROCESSES & PERFORMANCE
Throughout the remainder of 2020, it wouldn't be a stretch to believe that employee output will be reduced, as travel, events, face-to-face workshops, and even simple meetings will be fettered, the immediate resolutions these provided pre-pandemic will also be limited. This brings to the fore the stress on how individual contributors reach targets set early in the year.
Once businesses are allowed to operate, it will be prudent to review targets and KPIs, and benchmark them against a rational view of a company's specific market. The likely general outcome is a re-calibration downward, that is, an acceptance that old targets are indeed no longer logical alongside the reality of the pandemic.
What does this mean for ongoing management of activities? Fundamentally, each activity will become more critical as success rates will need to increase. Management teams and experienced team members may be required to have a more hands-on approach within teams to help ensure the success of different initiatives. The general idea is to increase the chances of overall success as time and resources will not be as available to companies as they were before COVID19 hit. One of the additional benefits which may be an outcome is an acceleration of knowledge-sharing between and among teams as each one sprint to attain success. This is an opportunity present even with the limitations in the communication tools that may be apparent.
DIGITIZE & VIRTUALIZE
Until a cure or a vaccine becomes available, no one will feel 100% safe going out and doing things as they have done pre-COVID19. In fact, it is likely that even after a cure and a vaccine is made, a lot of us will still have that sense of dread being in large crowds or putting ourselves out there, with the pandemic memory still much alive in our consciousness.
Alongside the high use of virtual platforms, companies will need to re-think how physical documents are used within the organization, first, as a hindrance to virtual workflows and collaboration, and second, as a conduit for increased person-to-person virus transmission.
Service-oriented companies that thrive on face-to-face engagements and nourishing relationships will be forced to shift some of their activities to a virtual platform as a way of satisfying client requirements of reduced interaction and also as a way to protect its employees against possible infections.
When companies do shift to some level of virtual client engagements, communication should be a key consideration. The process of passing and understanding information from person to person was already challenging pre-pandemic, but it will become more so as we adapt to the new realities post-COVID19. When engagement is the goal, companies should consider limiting participants to a level that will enable check-ins and feedback sharing during a virtual presentation.
TEAMS
Geography may become less of a factor when creating teams as we create more virtual teams. We can only be limited by the connection we have, and increasingly, these limits are being torn down. The virtual trait that teams may adopt alongside other characteristics will help define the ideal sizes and individual skills of contributors. This is a great chance to increase the potential productivity of groups if managed properly.
The great opportunity lies in reach though. With new ways in which teams are physically constructed, strategies may be formed to improve how client and supplier contacts are maintained or even improved.
The main initiative in the short term is to limit the adverse effects of the coming recession. Team construction will be critical to that end.
While the above items are not all-encompassing, it is clear that any temporary and ongoing change is a shapeless map of related effects. The interests of safety, job security, company viability, costs, and revenues all need consideration when coming up with the way forward. Each company will have to merge expertise from management, human resources, finance, IT, and real estate, either from within its ranks or via a third-party consultative process, in order to come up with a strategy for success in the immediate term and the long term as well.
What is certain though, is that this conversation has to start.