Earlier this year, Santos Knight Frank's Project Management Team successfully completed a two-phase commercial interior fit-out management project for BPI-Philam Life Assurance Corp. (BPLAC)'s head office in Makati City, Metro Manila, Philippines. The project resulted in a hip, newly-renovated office that achieved a LEED Platinum certification, the highest of its rating by the U.S. Green Building Council (USGBC).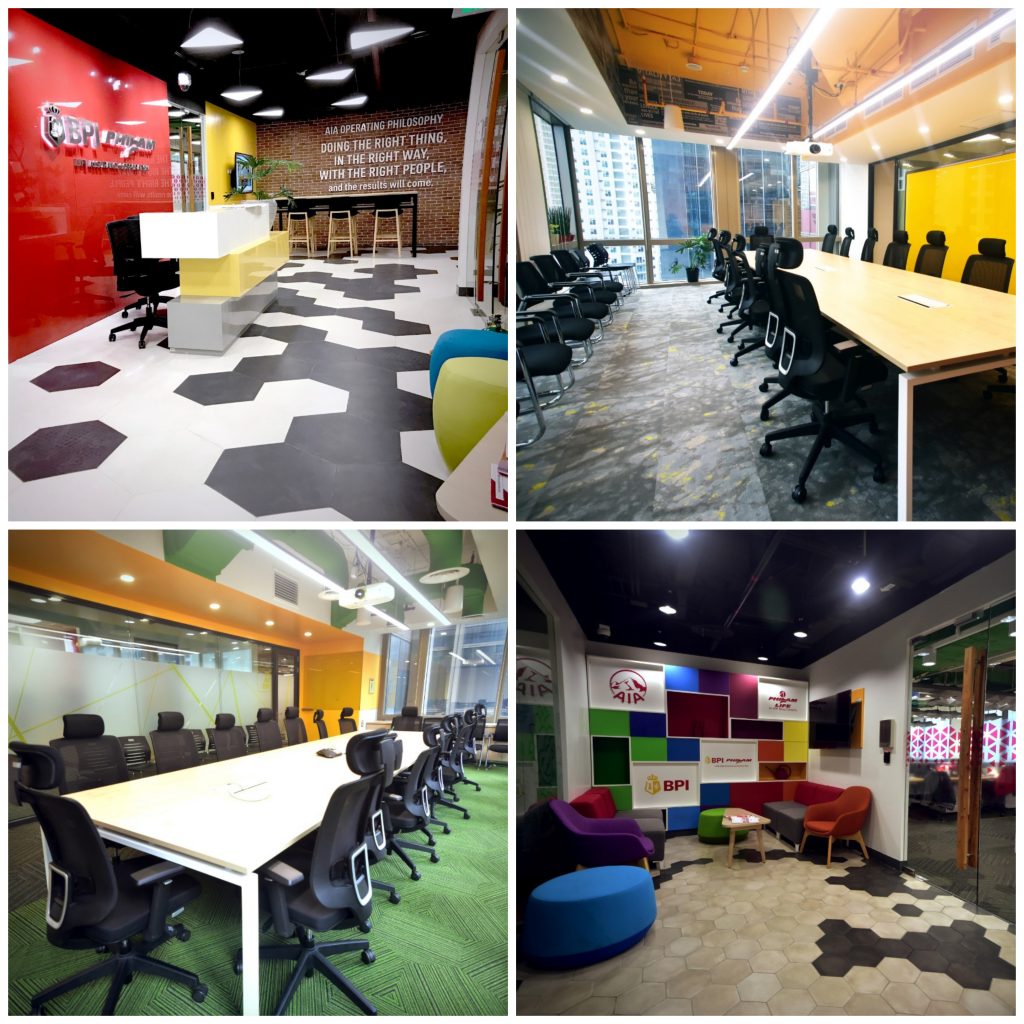 A valued client of Santos Knight Frank, BPI-Philam Life Assurance Corp. is a partnership of two icons of the Philippine financial industry – The Philippine American Life and General Insurance Company (Philam Life) and Bank of the Philippine Islands (BPI), the oldest of the banks in the Philippines and Southeast Asia.
Santos Knight Frank had won the project through trust and track record. It previously completed projects for Philam Life before and is recognized for managing Zuellig Building, the first-ever LEED-certified building in the Philippines. As part of the AIA group, the BPLAC facility is also (remotely) managed by our Facilities Management Team since 2015.
The project's concept was "Urban Eclectic". BPLAC wanted to have a modern, open office space with colorful, modern, refreshing, and stimulating interiors — perfect for its mostly young employees and guests. The open office plan and open ceilings maximize the benefits of daylighting, controllable lighting and HVAC systems, efficient plumbing fixtures, and healthy indoor air quality. Overall, the Project Management Team applied effective LEED tools and project management services for efficient, cost-effective design and construction that enhance energy performance and establish a sustainable working environment. This transformed a decades-old building into a modern and healthier workplace.
The team shared some key learnings that made the project successful:
Communication and collaboration are imperative in the team in exploring beneficial interrelationships and synergies between systems and components.
Consider "big payoff strategies" such as low-cost, quick payoff improvements, and budget that impact the long-term.
Monitor if the owners' and stakeholders' values, aspirations, and requirements are being met throughout the course of the project.
Santos Knight Frank's project managers delivered the project in accordance with the budget and timeline, further embodying the company's commitment to professional excellence, leadership, and expertise.