As the Philippines and the world continue the battle against COVID-19, Filipinos have learned to adapt with the Enhanced Community Quarantine rules and regulations. Majority of the people are staying at home, taking their time to cope in different ways as they should. Front liners such as healthcare workers, supermarket attendants, security guards, and local government workers continue to risk their lives to save lives and make the community a safe and healthy place amid the pandemic.
Acts of heroism come in different forms. There are those who ensure accessibility of essential items and attend to victims of the pandemic, while there are the unsung heroes who spearhead health and safety protocols and implement social distancing in properties.
Property and facilities management professionals are among those on the frontline ensuring the safety and wellbeing of tenants, owners, and occupiers of commercial buildings, residential properties and villages. They are the first line of defense in many of these properties, implementing sanitation and security protocols and extending technical support and assistance.
Since the implementation of the ECQ, Santos Knight Frank's Property and Facilities Management teams have braved every working day to provide needed services to keep hospitals, retail, commercial, residential, and manufacturing facilities running. Here are some of the stories of these heroes.
Maricor "Macky" Torres, 32, Building Management System (BMS) Operator, Philam Life Building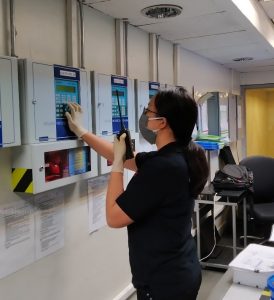 Macky is one of the pioneers since Santos Knight Frank began managing Philam Life Tower in March 2015.  Since Day 1 of ECQ, while some of the Property Management team were on a work-from-home arrangement, she stepped up and opted to stay on site. Aside from her main task as BMS Operator, she was able to multitask and give additional time to support the admin and accounting team and implement health and safety measures on site.
Macky finds fulfillment in what she does and finds every waking moment as a blessing amid a busier and greater responsibility at work. "I'm happy to be of service to our client and tenants here in Philam Life and ensure their overall safety. This situation is making me maximize what I already know and can do further in property management."
Gregory Tibayan, 25, Property Manager, The Brilliance Center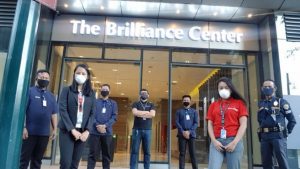 Gregory is much-regarded by his superiors and clients for his great leadership skills and sense of responsibility. Due to the lockdown, the building has been on partial operations. Greg's decision to stay in the building with his team instead of his home in Mandaluyong was not only due to the difficulty in transportation, but also his desire to set an example to his team – of being present in all situations, boost everyone's morale, going the extra mile, and ensure security and peace of mind for the property owner.
Greg on what keeps him motivated: "We still have a few weeks or so into the ECQ, and we don't know what's going to happen, but our team's goal is to come out of this lockdown healthy and safe, and feeling fulfilled that we were able to overcome this challenge."
May Nicomendez, 27, Property Assistant, Highlands Properties, Inc.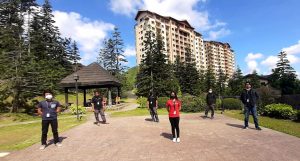 The poor communication signal in Tagaytay City has been a challenge for May especially when she has multiple residential properties and condominiums under her purview. Although May lives in the area, she has to wake up earlier than usual to catch the shuttle service to work during the quarantine period. At Tagaytay Highlands, she assists residents' and homeowners' concerns such as securing quarantine passes, monitoring the entry of residents and their guests, and making sure house rules and guidelines are followed. During the ECQ period, she has been stepping up her game to maintain hassle-free operations every day. Even after working hours, she is vigilant in monitoring the property remotely should a need for assistance arises.
"I love my job in property management. I get to learn a lot of things. Because of this crisis, I'm more determined to do a better job. My siblings were forced to leave work, so I'm thankful that I still have a job to help provide for my family's needs," says May, who has been with Santos Knight Frank for almost five years.
Danilo "Danny" Liwanag, 50, Property Engineer, The Taipan Place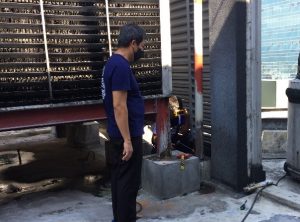 Since the announcement of the ECQ, Property Engineer Danilo Liwanag opted to stay in Taipan Place in Ortigas for six days a week to make sure that the property is well taken care of, even though he is a resident of Pasig City. At least six companies are currently operational in the building, and given the uncertainties of the ECQ, Danilo never considered working from home as an option. His main task is to supervise building and facilities repairs in Taipan Place, but he is more proactive in ensuring that the property never runs out of essential supplies and food provisions for the stay-in employees.
"This pandemic alone has a lot of reasons for one to not go to work, but I believe this is the time that our services are needed the most. This kind of thinking motivates me, and what I try to impart in my team."
Corwyn Zapanta, 52, Facilities Manager, Cardinal Santos Medical Center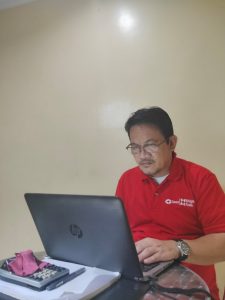 There is a strong sense of mission for Corwyn as he continues his role as facilities manager for Cardinal Santos Medical Center. Even if he had to work from his home in Cainta, Rizal, Corwyn is hands-on to ensure the job is done at the medical facility. He is in-charge of coordinating with suppliers, organizing the budget, and managing the logistics of his team.
Corwyn ensures everyone's morale and mental disposition are high and positive, ready to do the job. "It was really hard at first because of the constant fear, internal panic, and homesickness of my team for their families. Even if I'm not physically onsite, I make sure that my presence is felt, that I'm always here for them for guidance and encouragement. Matatapos din ito (Eventually, this will pass)!"
 Engr. Karl Dulguime, 24, Shift Engineer, Cardinal Santos Medical Center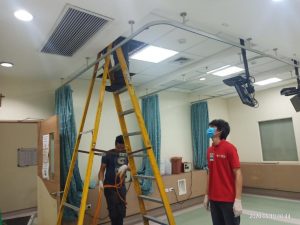 Nowhere poses more risk of getting infected by COVID-19 than in a hospital. Just a month into the role, Karl did not expect his baptism of fire would be to supervise all facilities operations during a pandemic in a hospital. He is one of the acting leaders of his team who manages the installation and fabrication of isolation tents, acrylic glass boards, alcohol dispensers, and repainting jobs. He led his team in organizing designated areas in La Salle Greenhills to provide more spaces for Persons Under Investigation (PUI) and Persons Under Monitoring (PUM) and converting shower rooms for the use of healthcare workers staying in the hospital.
In the absence of manpower, he, among other shift engineers, volunteer to do the leg work such as fixing leaks and other repairs. "At first, I'm nervous for myself and my team because there are unavoidable times when we have to enter rooms that have COVID patients. Lakas ng loob lang talaga (It just really takes a ton of courage), along with extra caution and keeping in mind what we're trained for." He mentioned that his ultimate motivation is his wife and three-month-old son, both in Boracay, whom he is looking forward to being with again.