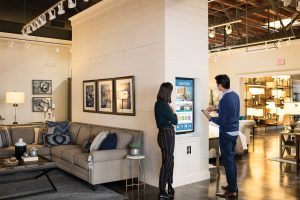 Commercial
The loosening of pandemic restrictions means the subsequent opening up of the economy. Despite the great shift of the retail industry to eCommerce, more than ever it is important for retailers to have their own physical stores. Here is a closer look at the value that a physical store can bring. 
RTLA Amendments 
On December 10, 2021, President Duterte signed into law RA 11595 or the amendment of the Retail Trade Liberalization Act of 2000, which in effect lowers the paid-up capital requirements of foreign retail enterprises and other purposes. This means that there are loosened restrictions, letting foreign retailers invest in retail business in the country. 
Experiencing the product
While effective, the one limitation of E-commerce is the lack of engagement it can give customers through the product. Taking away that experience of inspecting the product before making their decision. Physical stores can enhance a customer's emotional connection with the product, giving it an edge over online stores. 
This plays into the sensory marketing concept used in physical stores. It plays into the bodies' five senses in being able to create a lasting impression. Important here is the sense of touch, which allows customers to see firsthand the quality and functionality of the product. 
Immediate availability 
Speed and time are two big factors for good customer satisfaction, which is another edge of physical stores over their online counterparts, where sometimes waiting for a few days is the norm. The local stock of physical stores ensures that customers can instantly get what they want to buy, giving them that instant gratification. 
Customer experience 
The customer experience is just as important to any shop as the actual product being sold. Physical retail shops can directly influence their customer experience and differentiate themselves from their competitors, through their services, their store appearance, and more. 
Reach new customers 
Opening a physical retail store is brand awareness in itself. Not all the people who come inside the store are automatically customers, but they can become potential ones given they can browse through the product catalog and see it for themselves. Working in tandem with the online store can work in the favor of any retail business as it helps keep the brand top-of-mind for customers browsing online. 
Get started on your physical retail store 
When it comes to commercial real estate, there is one name you can trust for their years of experience and impressive track record. Santos Knight Frank offers an array of real estate services from brokerage, advisory, property management, facilities management, and more. Learn more about Santos Knight Frank through the website https://santosknightfrank.com/.