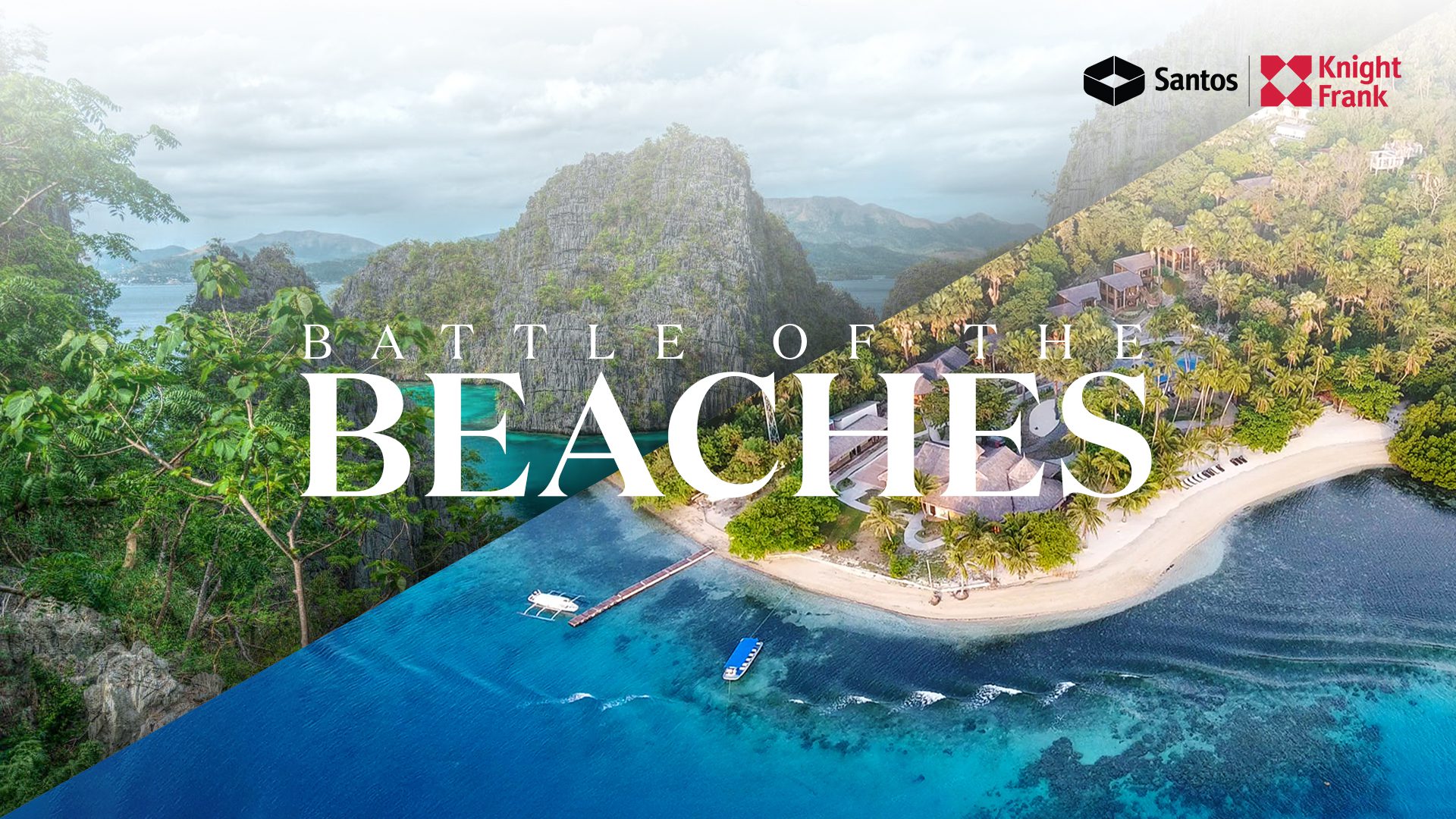 The Philippines is considered one of the top beach destinations in the world, attracting millions of visitors every year. According to the Philippine Statistics Authority, tourism is returning with revenge post-pandemic, with already 2.65 million international travelers in 2022 and among the top destinations were Palawan and Puerto Galera. If you're interested in purchasing a beachfront property, you may be wondering which location is the better choice for you. Let's take a closer look at the two islands and compare them.  
Palawan
Palawan is a large island with a population of around 1.2 million. Palawan has consistently ranked high on various travel publications' lists of the world's best islands; including Travel + Leisure magazine for the fourth year in a row, landing 19th out of 24 in 2022. Conde Nast Traveler also hailed Palawan the "Most Beautiful Island in the World" in 2016. No wonder as the island highlights clear aquamarine water, white sand beaches, towering limestone cliffs, lagoons, and lush palm forests. Famous attractions include the Underground River, El Nido, and Coron.  
Here are our beachfront property offerings in Palawan.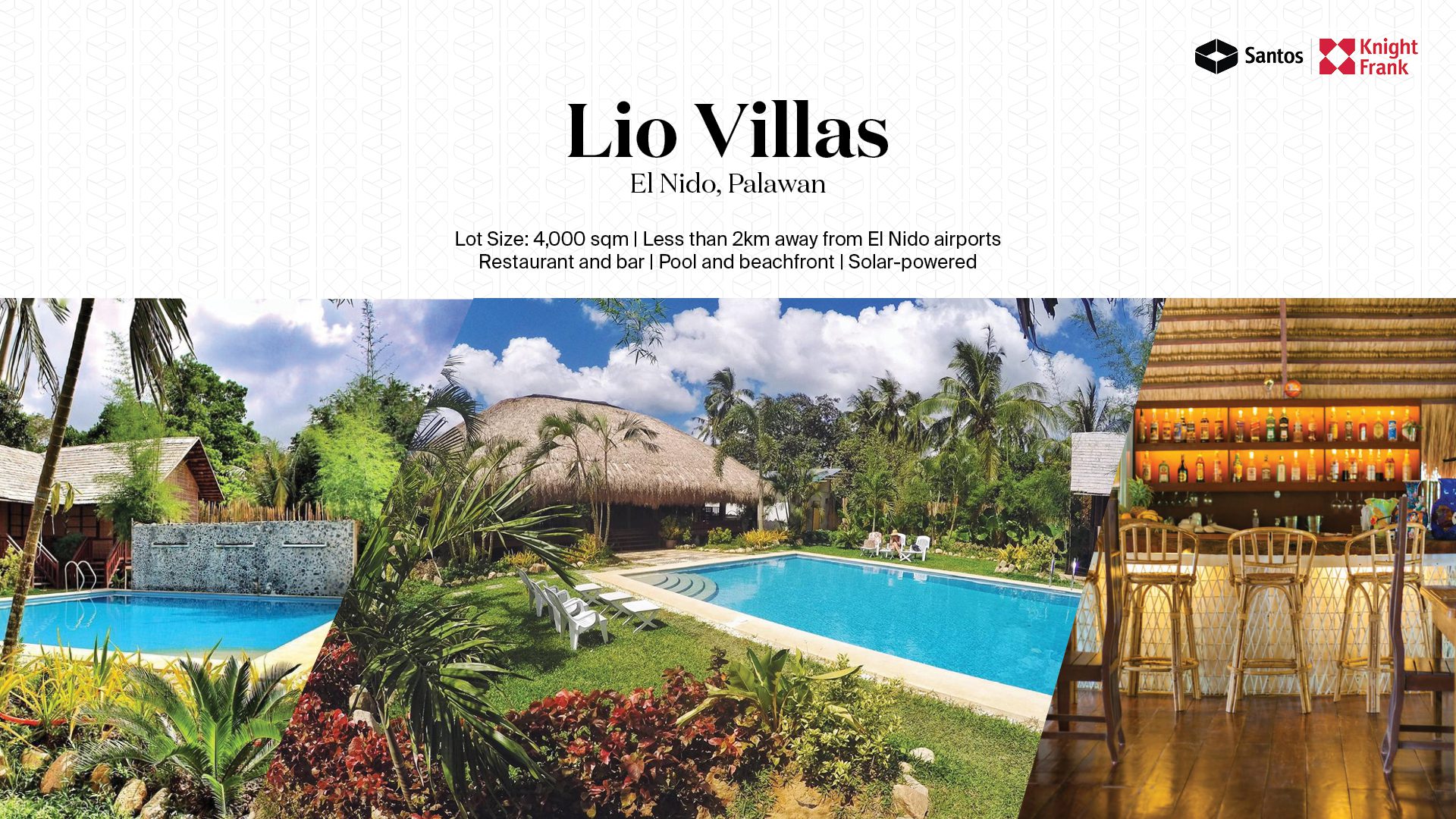 Discover Lio Villas Resort, an eco-friendly resort located in El Nido, Palawan. Fully powered by a grid solar system, the resort features 9 villas, a restaurant serving world-class delicacies, and relaxing amenities – a must-have for tourists looking for that perfect vacation resort. The resort is located less than 2km away from El Nido airport and Lio's beach front.

Guide price

PHP 200,000,000 | USD 3.6 Million

 
When we talk about Palawan, El Nido mostly comes first to mind. Comprised of 45 islands and islets, El Nido also has a collection of limestone cliffs, forming a dramatic backdrop to the town and the surrounding islands. These cliffs are the result of millions of years of geological activity and erosion, and are home to an abundance of caves, lagoons, and hidden beaches that are waiting to be explored. 
Another draw of El Nido is its diverse marine life. The waters around El Nido are home to a wide range of sea creatures, including colorful fish, sea turtles, and even dugongs. Visitors can explore the vibrant coral reefs through snorkeling or diving excursions or take a boat tour to see the marine life up close. 
Finally, El Nido is also known for its sustainable tourism practices. The town and the local government have always ensured that tourism in El Nido is environmentally friendly and sustainable, with a focus on preserving the natural beauty of the area for future generations. 
Overall, El Nido is a unique and unforgettable destination that offers stunning scenery, incredible beaches, diverse marine life, and a commitment to sustainable tourism practices. It's no wonder that it's a popular choice for international travelers seeking a tropical paradise.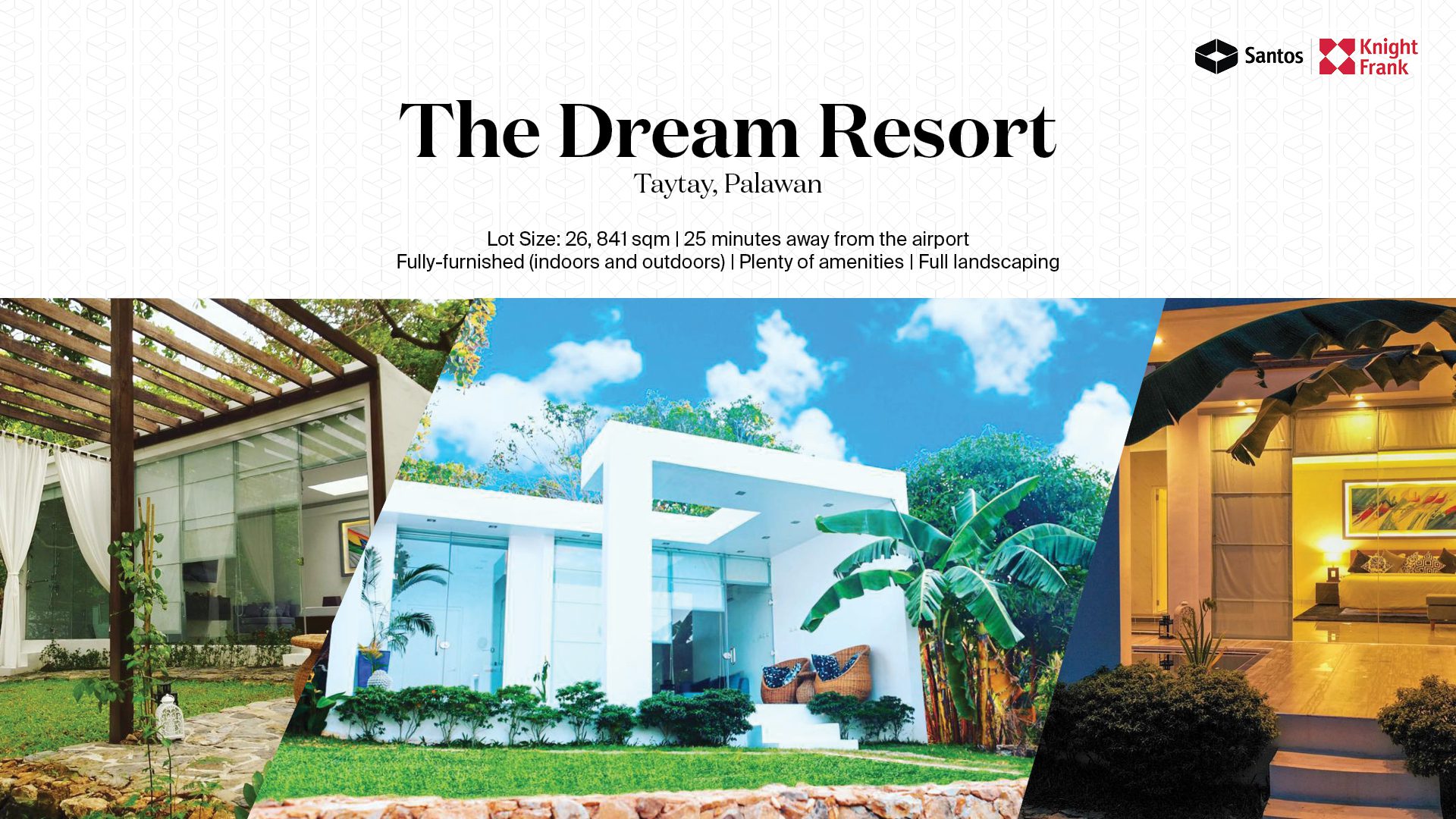 The Dream Resort is private, luxury accommodation, comfortably immersed in nature. A fully landscaped resort featuring 10 individual villas and relaxing facilities for its guests. Located in Taytay, Palawan, the resort is accessible via the San Vicente International Airport and El Nido Domestic Airport. It's less than 30- mins away from Taytay's town center and local hospitals.  

Guide price

PHP 504,000,000 | USD 9.2 Million

 
Puerto Galera
Located on the northern coast of Mindoro Island, Puerto Galera is a relatively small town with a population of around 41,000 people. It is also a popular tourist destination, particularly for domestic travelers. Before the pandemic in 2019, the Department of Tourism recorded 320,000 tourist arrivals and collected over P1.6 billion in tourism spending from over 300 tourism establishments. Local and international tourists alike marvel at Puerto Galera's numerous beaches and coves dotting the coastline, its majestic mountains and forests, and refreshing waterfalls and rivers. The town is known for island hopping, water sports activities, and beautiful beaches like White Beach and Sabang Beach, and for its vibrant nightlife, making it an ideal choice for those who enjoy a more active social life.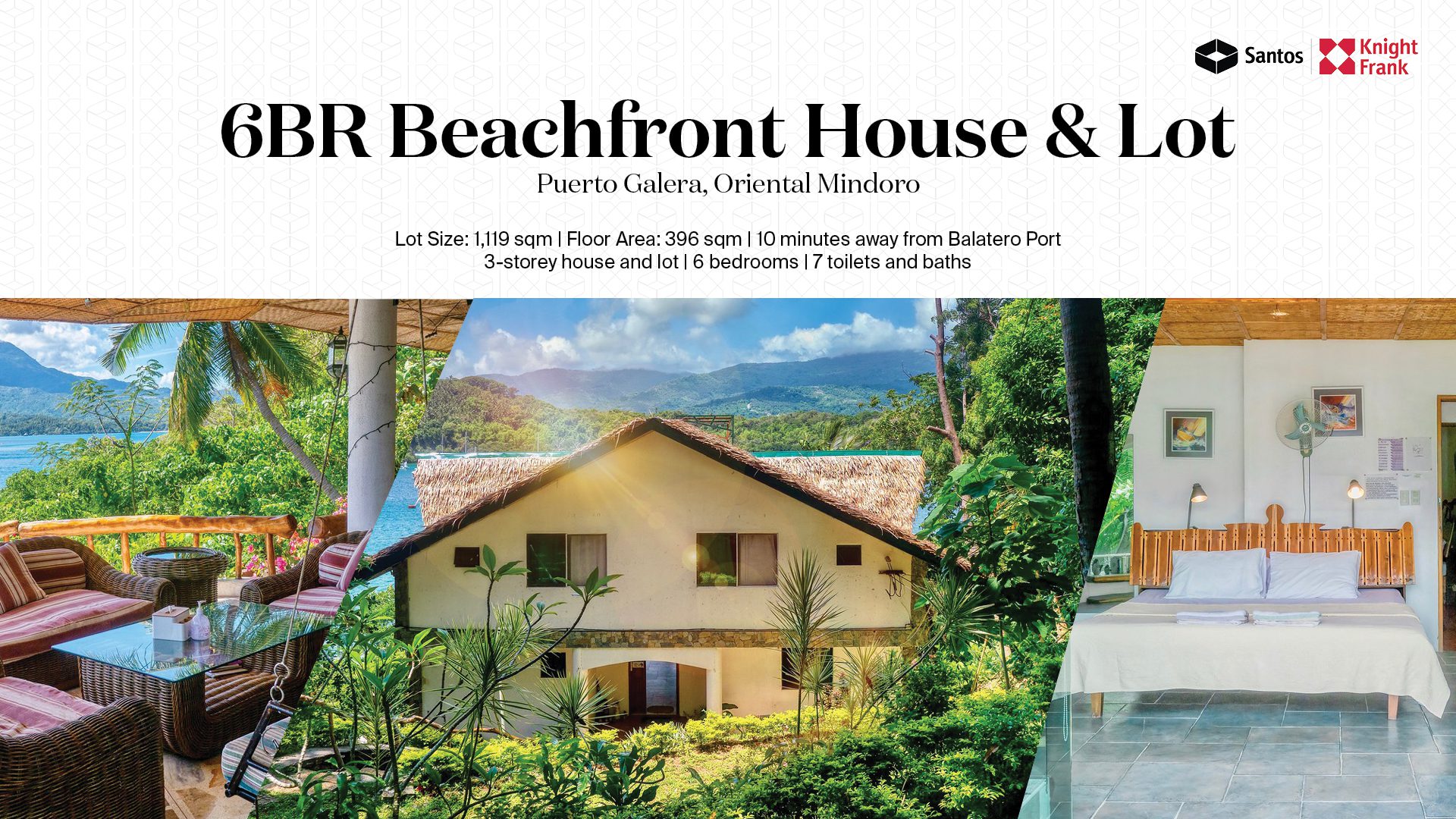 This ocean villa features a tropical design where wood and bamboo fixtures are heavily displayed across the house. To say the view from any part of the house is breathtaking is simply an understatement.  

Guide price PHP 55,000,000 | USD 1 Million

 
Accessibility
When it comes to accessibility, both Palawan and Puerto Galera have different means. 
Traveling to Palawan requires either a flight to Puerto Princesa or to San Vicente airport, which was inaugurated in 2018. From either airports, private planes going to El Nido are available. Puerto Galera, on the other hand, is accessible via a 50 mins to 1-hour ferry ride from the Port of Batangas via Fast Craft. 
In terms of infrastructure and amenities, both destinations have essential facilities such as hospitals, schools, and shopping centers. Palawan's main commercial facilities are located in Puerto Princesa City, which is 3.5 hours away from Taytay and 4.5 hours from El Nido via car drive. 
Palawan and Puerto Galera differ in their amenities and infrastructure. Palawan has several hospitals, both public and private, and a range of schools from elementary to tertiary levels. The town has a rural health unit and a few small clinics, only a few elementary and high schools, and small markets and stores. Retail-wise, Palawan has a range of shopping centers, from small markets to large malls. Palawan has several shopping centers, including SM City Puerto Princesa and Robinsons Place Palawan. Puerto Galera, on the other hand, has limited shopping centers, with only a few small markets and stores. 
Both destinations offer different price points. El Nido being 600 kilometers away, its promise of seclusion is an allure for luxury travelers. Meanwhile, Puerto Galera's relative accessibility makes it popular to a broad range of tourists, from those who can travel on private yachts to the free independent traveler. 
In conclusion, the decision of whether to choose Palawan or Puerto Galera ultimately depends on your personal preferences. Regardless of your preference, both destinations offer unique opportunities for a laidback and beachfront lifestyle. 
We'd be happy to show you your next beachfront home. To learn more about these properties, email us at inquiry@santos.knightfrank.ph