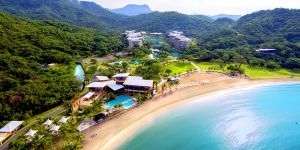 Residential, Investment
Batangas is one of the nearest getaway destinations for Metro Manila, widely known for its beaches and fresh breeze. Batangas – especially Nasugbu – is also a coveted spot  for second homes or retirement especially if you are inclined towards coastal living and activities like diving, fishing, and an overall simplistic environment.. Here is everything you need to know about Nasugbu. 
All about Nasugbu
Nasugbu is the largest town and the second-largest municipality in Western Batangas with a total land area of 27,851 hectares. Its name comes from the legend of a Spaniard who asked what the name of the town was, to which a lady replied, thinking he was referring to the rice cooking in a palayok—"Nasubo na po iyan eh, kaya ganyan." The words were repeated by the Spaniard, who introduced the name to his companions, hence becoming the name of the village.
History
Founded in 1899, the town was composed of people who worked for hacienderos who owned a big portion of the town. The inhabitants of the town possessed great grit in resisting the invaders during the Japanese occupation, and by the end of World War II, Nasugbu returned to its normal way of life, dealing with the after-effects of urbanization. During the 1970s, the hacienderos made a decision to sell most of the landholdings to the people over a 10-year period. Since then the lands have become a great foundation for a growing population spread across its 42 barangays. 
In 2007, it was declared a special tourism zone known for its white sand beach resorts, overseen by the Nasugbu eminent persons group. Included in this tourism zone are Punta Fuego and Mounts Palay-Palay where Mount Pico de Loro is located.
Nasugbu now
At present, Nasugbu is a hot location for those wanting to unwind outside of Metro Manila. Private residential subdivisions such as Maya Maya and Tali are home to vacation homes and rest houses with exquisite views. In some places, homes are being offered up for rent as an alternative to a traditional hotel or resort. 
Among the developments in Nasugbu, Punta Fuego is a headland of  resorts, beaches, golf courses, a marina, and a heliport. Peninsula de Punta Fuego, managed by Santos Knight Frank's property management team, is a must-visit attraction for those who want to bask in a picturesque beach with an unparalleled view of the seas.
Another, Pico de Loro Cove in Hamilo Coast, is known for its pristine white sand beach, premium amenities for a beach lifestyle, and renowned as one of the best private beach resorts in Nasugbu. 
Pico de Loro or "Bird's Beak" in English consists of eight mid-rise residential buildings in four clusters – which are named after famous birds of paradise – Jacana, Myna, Carola, and Miranda. A number of residential units in Pico de Loro are professionally managed by Santos Knight Frank.
New developments
Developments are rare in Nasugbu. One of the few ones include The Yanarra Seaside Residences, an upcoming subdivision developed by Sta. Lucia Land Inc. where Santos Knight Frank is already offering residential lots for sale. Already, asking prices for lots have jumped by around 15% between 2020 and 2021, offering a glimpse of the opportunities to capitalize on capital appreciation in the area.
As more people seek out greener spaces following the COVID pandemic, areas like Nasugbu would be a high priority given its close proximity to the Metro.
Long sought as a destination, Nasugbu is promising not just for second homes but also to buyers banking on the location as an investment opportunity.
Find your next vacation haven in Nasugbu
Investors and homeowners who want to find their ideal property in Nasugbu can turn to Santos Knight Frank. Santos Knight Frank is a real estate agency with a great track record of serving clients with services such as occupier services & commercial agency, investment & capital markets,  residential & sales leasing, property marketing, research & consultancy, valuation & appraisal, project management, asset management,  property management, facilities management, technical services & engineering solutions. Learn more about Santos Knight Frank through the website https://santosknightfrank.com/.
If you want to know more about the best tourist destinations to invest in, you can also read about 4 of the finest beach properties in the Philippines you can own.